Nicki Minaj Trolls Fans With New Album 'Pick My Fruit Out'
10 October 2016, 12:06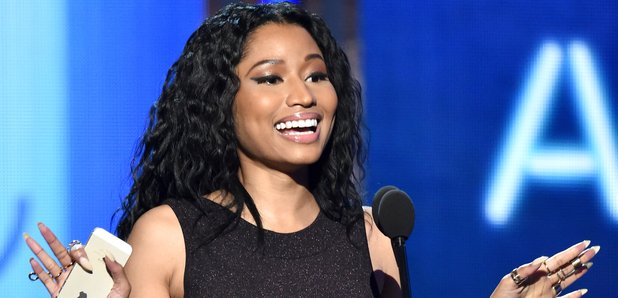 Bananas (Harambe Interlude) was a fan favourite.
Nicki Minaj teased her fans with a new album release called 'Pick My Fruit Out' on Twitter this weekend - but soon revealed the whole thing was a joke.
The self-entitled Queen of Rap even included a track listing, and claimed the album would be released at midnight.
Ok u know what I wasn't gonna say anything but damn ya got it out of me. The album drops at midnight. it's called #PickMyFruitOut

— NICKI MINAJ (@NICKIMINAJ) October 9, 2016
The fruit-inspired troll album involved tracks such as 'Mango', 'Cherry' and 'Watermelon'.
'Bananas (Harambe Interlude) was also featured, as a tribute to the infamous gorilla internet meme.
Tracklist:

1. Mango
2. Cherry
3. Watermelon
4. Bananas (harambe interlude)
5. Grapes
6. Raspberries
7. Kiwi
8. Pineapple
9. Fruit Loops

— NICKI MINAJ (@NICKIMINAJ) October 9, 2016
Fans were quick respond to the diva, proposing album covers, and suggesting collaborations and extra song titles.
New album by @NICKIMINAJ buy now #PickMyFruitOut pic.twitter.com/OTAppdJtOS

— GABRIEL MARAJ (@GABRIELMARAJ) October 9, 2016
Pop My Cherry ft. Beyoncé, Banana Split ft. Lil Wayne, and Lick My Apple Pie are the best songs off #PickMyFruitOut. https://t.co/8078zNrccI

— (@fourfivehours) October 9, 2016
Bonus Track:

Caribbean Lemons (feat. @Beyonce & @rihanna) #PickMyFruitOut

— ThePinkPrintAngel™ (@JRux_PinkPrince) October 9, 2016
#PickMyFruitOut Fruit Salad deluxe bonus tracks

Fruit Loops remix ft. Azealea Banks

Peaches ft. Lil Wayne

Strawberry ft. Meek Mill

— Cyncir (@Designer_Cyncir) October 9, 2016
Other fans were clearly upset by Nicki's trolling skills after realising the new album was a hoax.
Me after reading the track list for #PickMyFruitOut and realising it's all a joke! @NICKIMINAJ you played us pic.twitter.com/i23rQSy4eb

— Eniafé Momodu (@EniafeMomodu) October 9, 2016
when I don't see #PickMyFruitOut on iTunes pic.twitter.com/PJPh9pMZDE

— #blacklivesmatter (@lealora_s) October 9, 2016
Raise your hand if you've ever felt personally trolled by @NICKIMINAJ #PickMyFruitOut

— Dan-Yill (@Dan_Yill) October 9, 2016
It's been two years since the release of Nicki's last album, 2014's 'The Pinkprint', so fans have been eagerly waiting for some new material in the form of a fourth studio album.
Although said album's name and release date is yet to be revealed, the rapper has clearly been keeping herself busy.
Her recent features include Ariana Grande's 'Side To Side', DJ Khaled's 'Do You Mind' and DJ Mustard's 'Don't Hurt Me'.