People On Twitter Think Nicki Minaj's 'Pervert 17' Jersey Is A Message To Tyga
19 May 2015, 09:49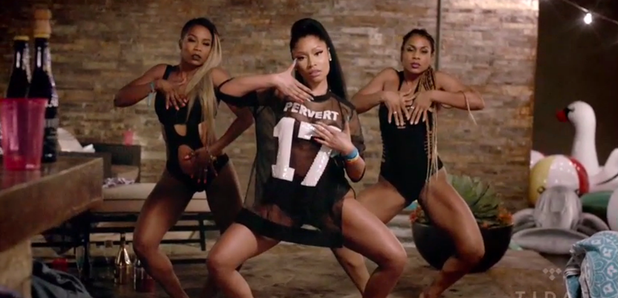 Is Nicki throwing shade at Tyga and Kylie Jenner in the 'Feeling Myself' video?
In case you've been living under a rock, Beyoncé and Nicki Minaj have dropped the official video for their latest collaboration 'Feeling Myself.'
If you managed to take your eyes off of the Queen of Rap and Queen Bey for a minute, you might have noticed one scene where Nicki is wearing a black and white jersey with 'Pervert 17' written across it.
Many people on Twitter have taken this to be a message to Tyga, who has come under scrutiny for dating 17-year-old Kylie Jenner.
wait, do you think nicki's throwing shade at tyga with this pervert 17 jersey? pic.twitter.com/S0dgD3ObDY

— Krystie Lee Yandoli (@KrystieLYandoli) May 18, 2015
Nicki lowkey throwing shade at Tyga with that "pervert 17" jersey tho pic.twitter.com/qYKnDSkliu

— ricemamanda adichie (@rxissa) May 18, 2015
Nicki threw shade at tyga with that pervert 17 jersey YOOOO I LOVE HER

— Kamira (@ShadyKamm) May 18, 2015
Hey @NICKIMINAJ is your "Pervert:17" shade at Tyga? pic.twitter.com/2IiFULRDJf

— Ezi nwanyi. (@Femininja4Q) May 18, 2015
Could it be there Nicki Minaj chose to throw shots at Tyga, her ex Cash Money label-mate, in her new music video?
As Complex points out, it's unlikely. The jersey is from Givenchy's Spring 2015 collection, which means it is not custom made and Nicki probably just liked it.
This weekend Nicki blew the roof of the MGM Grand in Las Vegas as she put on an epic performance at the Billboard Music Awards alongside David Guetta.