Nicki Minaj Is Literally Paying For Her Fans' Tuition Fees Over Twitter
8 May 2017, 13:16 | Updated: 8 May 2017, 13:20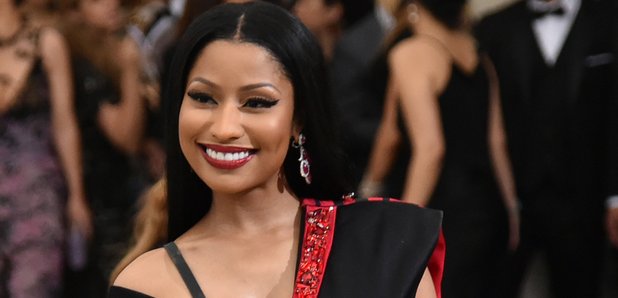 The rapper has responded to fans who have provided proof of their high grades.
Nicki Minaj has offered to pay for some of her fans' college tuition fees, provided they can prove that they are achieving top grades at school.
The 'Regret In Your Tears' rapper has taken to Twitter to lend a helping hand to a number of high achieving Barbz who reached out over the social media platform.
After originally posting about a competition giving fans a chance to meet her, Nicki responded to one user who asked her to pay for her tuition instead.
@NICKIMINAJ Well you wanna pay for my tuition? pic.twitter.com/BhDil75UPj

— CJ (@cjbydesign) May 7, 2017
Show me straight A's that I can verify w/ur school and I'll pay it. Who wants to join THAT contest?!?! Dead serious. Shld I set it up? https://t.co/czH715u64a

— NICKI MINAJ (@NICKIMINAJ) May 7, 2017
It wasn't long before more of Nicki's loyal fans came out in force, revealing to the rapper their financial situations, tuition fees and current grades.
Users including medical students, current college students and even past alumni who are still struggling to pay off their loans all tweeted their idol.
One fan was promised a sum of $6,000 from Minaj to cover their tuition fees, books, accommodation and food, if they could provide proof of their grades.
The 6k would be for my 16 credit classes, room & board, meal plan, technology fee & books that I would need for the classes. https://t.co/InZT6LSxOG

— Josh Maraj. (@GetChoLife1) May 7, 2017
Ok. I'll pay it. If u have proof. https://t.co/cWnNGHk3Oe

— NICKI MINAJ (@NICKIMINAJ) May 7, 2017
Other requests ranged from $350 all the way up to the $6,000 mark.
1k would be more then enough for my 3 summer classes help me Nic @NICKIMINAJ

— Cesar (@cesarszn) May 7, 2017
That's it? I'll send it tmrw. dm me ur bank info babe. Next! https://t.co/i4TVmsqDoA

— NICKI MINAJ (@NICKIMINAJ) May 7, 2017
@NICKIMINAJ I only need $1548 to enroll in my school for the next semester ! and only 250$ for my books !

— Liyah (@Liyaahdoll) May 7, 2017
Got ya https://t.co/5wXqgLE7ui

— NICKI MINAJ (@NICKIMINAJ) May 7, 2017
And more fans who missed out on the opportunity - keep a sharp eye out.
The 'Anaconda' rapper signed off with a tweet promising to provide more helpful donations in the coming months.
Ok u guys. It's been fun. Let me make those payments tmrw then see if I have any money left. I'll do some more in a month or 2.

— NICKI MINAJ (@NICKIMINAJ) May 7, 2017
Yes, Nicki!