Nicki Minaj Talks Recording With Beyoncé: "I Learn So Much When I Work With Her"
5 February 2015, 09:49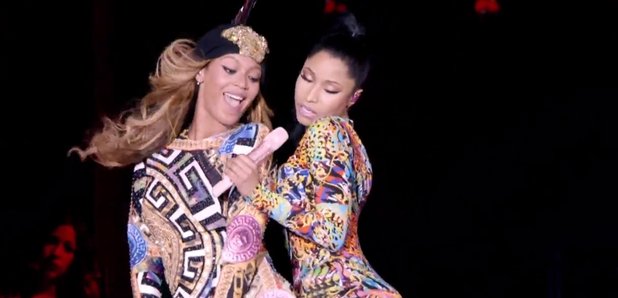 Read about the creation of Nicki Minajand Beyoncé collaborations 'Feeling Myself' and 'Flawless (Remix)'.
Nicki Minaj has opened up about what it was like working with Beyoncé on the remix to her hit song 'Flawless' and more recently, on 'The Pinkprint' single 'Feeling Myself'.
The 'Anaconda' rapper recalled how Beyoncé offered to record something for her third studio album after Nicki had provided verses for her 'Flawless (Remix)'.
"When I did 'Flawless,' she said that she would do something for 'The Pinkprint,'" Minaj told TIME. "I was ecstatic. She had 'Feeling Myself' — she wanted to know how I felt about it. I said, 'I love it'.
Nicki hoped the phrase 'Feeling Myself' would recreate the same buzz that 'Flawless' was receiving across social media channels since the release of the song.
"I knew girls were going to be posting pictures on Instagram saying '#feelingmyself.' I told Beyoncé that. I was like, 'You already know what's going to happen.'"
On her time in the studio with Beyoncé, Nicki joked that not only did she learn a lot from Queen Bey, but Beyoncé's "very hands-on" method made Nicki feel more relaxed about how much she usually over-thinks things.
"I always feel like I learn so much when I work with her. I don't normally work with people like me. I'm always the one feeling like I'm a lunatic" Minaj laughed. "Like I'm over-thinking everything. But she's very, very hands-on. So whenever I work with her, I feel maybe I'm not so bad after all."
Nicki Minaj joined Beyoncé during her final 'On The Run' show in Paris to perform their 'Flawless (Remix)' live, it's the only time to date that the two have performed live alongside each other.