Nicki Minaj Unveils 'The Pinkprint' Album Tracklisting, Features Beyonce And Ariana Grande
1 December 2014, 18:19 | Updated: 1 December 2014, 18:22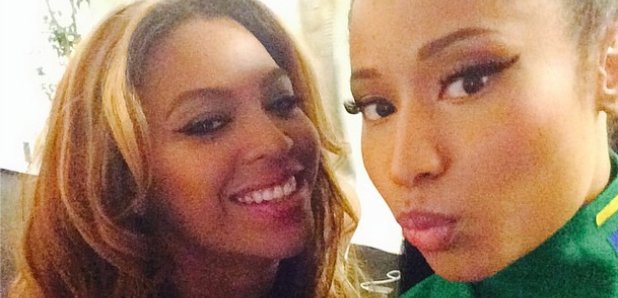 The new album will feature a list of big names, including Lil' Wayne and Ariana Grande.
With only two weeks to go to the release of 'The Pinkprint', Nicki Minaj has unveiled the album's tracklisting - and it includes Beyonce.
In what is a pretty impressive star-studded line-up, the rapper's latest album will also feature collaborations with Ariana Grande and Meek Mill, as well as the already released 'Anaconda' and 'Pills N' Potions'.
The album has been produced by Lil' Wayne, Birdman and Slim.
Nicki Minaj made the announcement about the tracklisting for 'The Pinkprint' on her Instagram account. The album will be released on 15th December.
The full 'The Pinkprint' tracklisting is:
'All Things Go'
'I Lied'
'The Crying Game'
'Get on Your Knees' feat. Ariana Grande
'Feeling Myself' feat. Beyoncé
'Only' feat. Drake, Lil Wayne, and Chris Brown
'Want Some More'
'Four Door Aventador'
'Favorite' feat. Jeremih
'Buy a Heart' feat. Meek Mill
'Trini Dem Girls' feat. Lunchmoney Lewis
'Anaconda'
'The Night Is Still Young'
'Pills and Potions'
'Bed of Lies' feat. Skylar Grey
'Grand Piano'
'Big Daddy' feat. Meek Mill
'Shanghai'
'Win Again'