Miley Cyrus Blasts Nicki Minaj For VMAs Outburst
28 August 2015, 10:34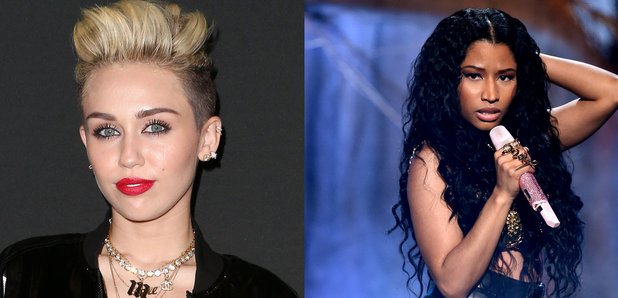 Miley has thrown major shade at Nicki Minaj.
Miley Cyrus has thrown some serious shade at Nicki Minaj for complaining about her Video Of The Year nomination snub.
The 'Wrecking Ball' singer said that Nicki was "not very polite" when handling her recent VMAs feud with Taylor Swift and said Nicki's opinion on the situation made it seem like the awards were all about her.
"You made it all about you. Not to sound like a bitch, but that's like, "Eh, I didn't get my VMA," said Cyrus in an interview with the New York Times.
"What I read sounded very Nicki Minaj, which, if you know Nicki Minaj is not too kind. It's not very polite. I think there's a way you speak to people with openness and love."
She also added that Nicki could have raised the issue of race in a better way.
"If you want to make it about race, there's a way you could do that. But don't make it just about yourself. Say: 'This is the reason why I think it's important to be nominated'. There's girls everywhere with this body type," said Cyrus.
Meanwhile, its been announced that Nicki Minaj will be opening the MTV VMAs this Sunday.
The 'Anaconda' rapper joins the likes of A$AP Rocky, Pharrell Williams, Macklemore and more, who will perform at the event. Kanye West will be awarded with the prestigious Michael Jackson Video Vanguard Award.