Nicki Minaj Kicked Off Pinkprint Tour In US By Licking Meek Mill's Face
20 July 2015, 10:57 | Updated: 6 August 2015, 13:14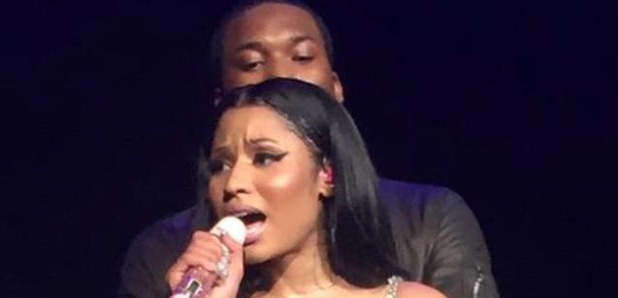 Nicki had some advice for fans as well.
Nicki Minaj kicked off her The Pinkprint US tour over the weekend with a guest appearance from Meek Mill.
During her hit-filled set, the Trinidadian-American rapper brought on her current partner Meek Mill to perform 'Big Daddy', 'Buy a Heart', 'Bad for You' and 'All Eyes On You' together, while photos of the couple appeared on screens.
"It feels funny, me and Nicki on tour right now," Meek told the Dallas audience before asking Nicki for a kiss.
"I don't want to kiss you, I just want to lick you," said Nicki before licking his cheek. "I like that shit," replied Meek.
Nicki licking Meek's face last night They cute as s*** #ThePinkprintTOUR pic.twitter.com/RW86ZEgGXq

— Patrick ♛ (@pmbenson33) July 18, 2015
The 'Feelin' Myself' star was also supported by DeJ Loaf, Tinashe, Rae Sremmurd on the first night of her two month long tour.
Nicki also took the time to dispense some advice to her fans between songs, telling the crowd: "Don't depend on a man for a motherf***ing thing. I don't care how good that d*ck is. Get your own motherf***ing job, get your own motherf***ing career, your own education."
Nicki said "don't depend on a man... I don't care how good that d*ck is" #Preach #FrontRow #ThePinkprintTOUR pic.twitter.com/YNaiHlBDCw

— Patrick ♛ (@pmbenson33) July 19, 2015