Nicki Minaj Criticised For Cultural Appropriation Over SNL Performance
21 May 2018, 16:45 | Updated: 21 May 2018, 16:48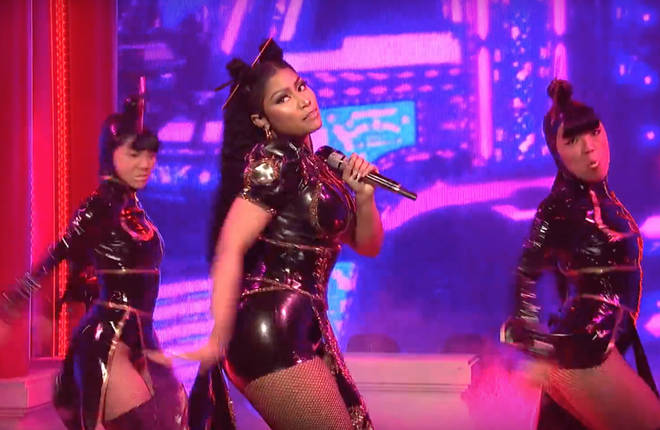 The 'Chun Li' rapper has been called out for appropriating Japanese culture...
Nicki Minaj is currently facing a backlash over her performance of 'Chun Li' during an appearance on Saturday Night Live.
The New York rapper, who was featured as a musical guest on the series finale over the weekend, performed her latest single wearing a traditional Japanese outfit.
Watch the performance below:
Minaj also wore chopsticks in her hair and had a number of Asian backup dancers, as well as an oriental-themed background.
Following the performance ahead of her new album 'Queen', fans took to Twitter to accuse Nicki Minaj of appropriating oriental culture.
See some of the comments below:
Explain why white girl wearing cheongsam to prom was cultural appropriation but nicki minaj used leaf hats, CHOPSTICKS in hair and the whole red lantern chinky background while also having 0 chinese blood wasn't. And no, none of that was needed to cosplay chun-li #NickiOnSNL

— Claudie (@kingoglitter) May 20, 2018
Is no one gonna talk about the fact that Nicki Minaj's performance on #SNL included cultural appropriation or???

— leah (@leahmillar97) May 20, 2018
How come Nicki Minaj isn't being accused of cultural appropriation?! Or is it only white people can appropriate cultures? I thought the idea had merit but now I have my doubts after seeing #NickiOnSNL lampoon Chinese culture and provoke no outrage.

— Erline Andrews (@ErlineP) May 20, 2018
So it's not cultural appropriation when Nicki Minaj does it?

— Filiaci thinks (@Filiaci_thinks) May 20, 2018
So I do not read @NICKIMINAJ's portrayal of Chun-Li as "appropriation" but as an embrace of a strong female character, both transcendent of race, but also as a nod to the long cultural connections between the African American & Asian communities. /end.

— mieke eoyang (@MiekeEoyang) May 20, 2018
Interestingly, Nicki Minaj slammed the fashion industry for cultural appropriation during New York fashion week last year.
"Thank you for including our culture," she said at the Philipp Plein Spring/Summer runway show.
"Designers get really big, really rich off of our culture, and then you don't see a mother*cker that look anything like us in the front row half the time."
Meanwhile, Nicki Minaj lost out to her rumoured rival Cardi B at the Billboard Awards this weekend.
Cardi won the award for Top Female Rap Artist, beating Nicki Minaj and social media sensation Bhad Bhabie.