Ellen DeGeneres Parodied Nicki Minaj's New Sitcom And Twitter Isn't Happy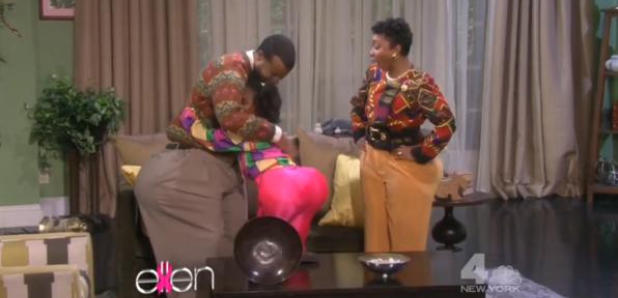 Some have labelled the skit as "racist".
US chat show host Ellen DeGeneres did a skit that parodied Nicki Minaj's upcoming TV series and it didn't sit well with Twitter.
The parody was presented as an 'exclusive' clip from Nicki's new ABC Family series about her early life in New York.
However the actor playing young Nicki had a backside so large, that the Minaj household is destroyed with the most minor of movements.
Watch an excerpt from the skit below:
Ellen play to much @NICKIMINAJ pic.twitter.com/fpcVHy5qom

— Jameka (@trillOnika) October 12, 2015
The parody began with little Nicki coming downstairs, after her mother had asked if her she'd left her shoes on the first floor.
The actress then bent over and displayed a huge prosthetic backside that caused items around the house to fall to the ground.
Characters playing Nicki's parents also had huge backsides and caused fruit and a living room lamp to hit the floor.
Twitter wasn't happy with the representation of the Minaj family and some have even labelled the skit as "racist".
The @ellenDegeneres_ "parody" of Niki Manaj is extraordinarily offensive. Really, WHAT are people thinking? In 2015? http://t.co/QMDBl9oZLC

— Stephanie Nolen (@snolen) October 13, 2015
Would like to ask @TheEllenShow why black bodies are so funny? Why must you hyper-sexualize a child? #EX42Week6 http://t.co/FNniuZrKCj

— Mo (@realmofree) October 14, 2015
I don't find Ellen's skit about @NICKIMINAJ the least bit funny, I find it racist, it's reducing black women to nothing but an object

— TRAP & TACOS (@mrkrabsfeelsit) October 14, 2015
However others thought the skit was just a bit of fun:
Hey, @zblay. Please don't be that black person that turns everything racist. It's called comedy. It's not that deep. http://t.co/9TylPch9od

— Michael D. Monroe (@MichaelDMonroe) October 14, 2015
@BET @NICKIMINAJ so what ,u can't take a joke .Ellen mean no harm people.Word Up!

— gregory.lopez.1978@g (@09lopezggjj) October 13, 2015
Nicki Minaj is yet to comment on the situation.