Did Cardi B Just Get Dragged On Nicki Minaj's Upcoming Single 'Half Back'?
12 April 2018, 12:14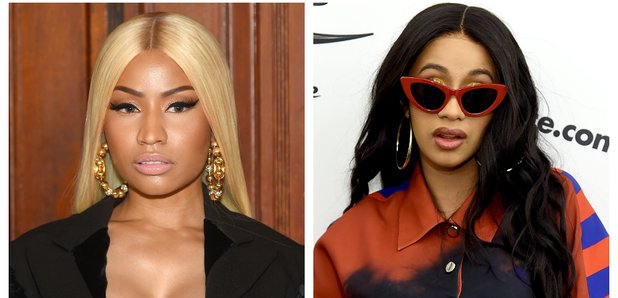 Some fans think the lyrics are shady.
Nicki Minaj is rumoured to have dissed Cardi B on a leaked track that may be taken from her upcoming fourth studio album.
Cardi B broke the internet and dropped her debut album 'Invasion Of Privacy' last week and a few days later Nicki announced that she would be releasing two new singles, 'Chun Li' and 'Barbie Tingz' on Thursday (today), after a four month hiatus.
And now people think that Nicki's throwing shots at Cardi on another new leaked song 'Half Back' because of some questionable lyrics.
On the single which was rumoured to be leaked, Nicki Minaj, raps: "I ain't never played a ho position/I ain't never had to strip to get the pole position/ Hoes is dissing, ok hoes these is wishin/ You're in no position, to come for O's position."
Some fans are claiming that the lyrics are a diss aimed at Cardi B, following her career as a stripper before she rose to fame.
Although the ladies have both denied that there's any beef between them, there are some people who are still sceptical.
In a recent interview, the 25-year-old claimed that there was no bad blood between her and the 'Chun-Li' rapper saying that it was all made up.
"I just feel like it's really internet made-up. I really feel like fans and people really want to see that happen because it's really entertaining. To see people beef is entertaining."
Cardi B is yet to respond to Nicki Minaj's latest alleged diss.