Bhad Bhabie Throws Shade At Nicki Minaj Over Cardi B Feud
28 September 2018, 10:27 | Updated: 28 September 2018, 10:31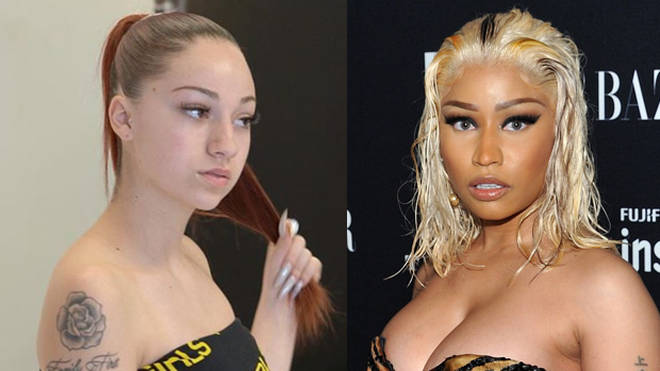 The 15-year-old didn't hold back...
Bhad Bhabie has thrown shade at Nicki Minaj over her publicised feuds with Cardi B and Travis Scott.
The 15-year-old, also known as the Cash Me Outside Girl, had some strong opinions when asked about the 'Queen' rapper.
"I grew up listening to Nicki," she began, while holding up a poop emoji during an appearance on Big Boy's Neighborhood.
"That was the female rapper I was raised on. She is doing way too much. She's way too salty about this whole sh*t. When it comes to the Travis sh*t. Kylie, the Stormi sh*t. When it comes to the Cardi sh*t. Way too much. Way too f*cking much."
Nicki Minaj infamously slammed Travis Scott, Kylie Jenner and their newborn daughter Stormi Webster after his 'Astroworld' album outsold her 'Queen' LP.
She also claimed she wanted to fight Travis Scott, after he bundled merchandise with his album to help boost sales.
Minaj is also caught in a long running feud with Cardi B, which recently escalated into a physical altercation at New York Fashion Week.
Cardi B slammed Nicki Minaj for a number of things, including stopping her money.
While Nicki Minaj attempted to expose Cardi B and her alleged behaviour during a heated rant on her Queen Radio show.
Meanwhile, Bhad Bhabie recently released her debut project '15', which features collaborations with Lil Yachty, Ty Dolla Sign, YG, Lil Baby and more.
Interestingly, this isn't the first time that Bhad Bhabie has appeared to throw shade at Nicki Minaj.
The 15-year-old appeared to take aim at Minaj after they were both nominated for the same Billboard Award this year.
Watch the interview above.