Watch Nicki Minaj Get Lubed Up To Fit In Her 'Bed' Mermaid Costume
7 July 2018, 11:03 | Updated: 7 July 2018, 18:33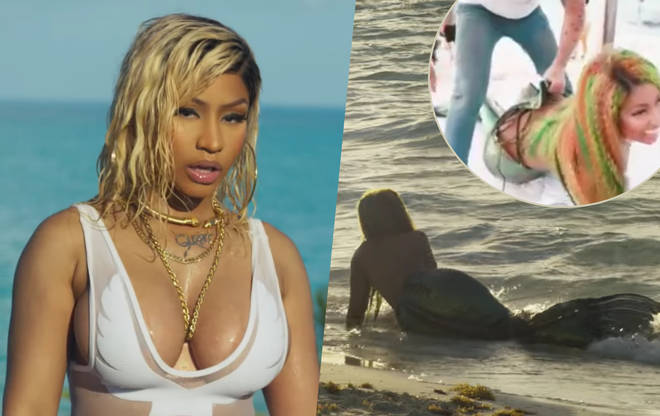 The rapper shared a behind the scenes look at how she got into the mermaid costume.
Nicki Minaj and Ariana Grande dropped the highly anticipated music video for their latest collab 'Bed'. The visuals for the song place Ari and Nicki on a picturesque beach, giving the rapper the perfect opportunity to rock a mermaid costume.
Nicki's elaborate mermaid tail was a cute visual in the video, but the star wants you to know that these big costume moments don't just happen. The rapper shared a behind the scenes video of herself being oiled up and fitted into the tail so fans could see what it really took for her to get into the costume.
"What do you mean we're almost there? There's no more room for my FOOT," Nicki says at one point as costumer designer, Brett Alan Nelson sprays liquid into the tail in order to ease her into it.
The mermaid theme drew the ire of fellow rapper Azealia Banks who accused Nicki earlier this week of copying her 2012 concept for 'Fantasea'. Nicki has not addressed the comments from Azealia Banks.
Watch the full visuals for 'Bed' and see the tail fully fitted and in action.