Watch Meek Mill And Kevin Hart's Hilarious Rap Battle
9 September 2016, 10:19 | Updated: 9 September 2016, 10:25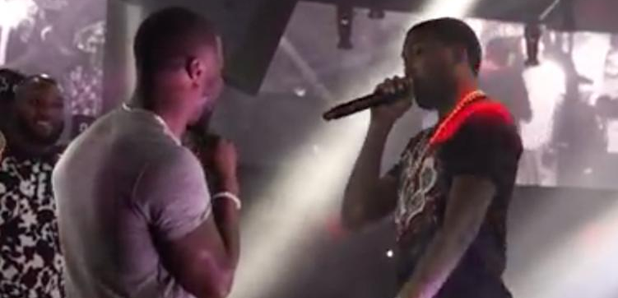 Meek got involved in another war of words.
Meek Mill got involved in a hilarious rap battle with Kevin Hart at a Las Vegas nightclub.
Despite his long-running feud with Drake, the Philly rapper invited Hart onto the stage at 'Drai' for another lyrical war of words.
Meek kicked off the battle with: "Popping up on my stage I'm like, 'What is the odds?' He must be on molly or something, look at his eyes."
While Kevin Hart adopted his rap alter ego Chocolate Droppa, to call out Meek.
"Meek Mill came to rap, I said don't do none of that/ I looked at my n*gga's jeans, I said we been done with that," he said.
Watch below:
Kevin Hart then aimed some more shots at Meek Mill's trainers, before ending the battle in a positive way.
"This is all love, man," said Hart. "Let me tell ya'll something before I say anything else: I stand by my guy, when I say that I mean I stand by my guy's talent.
"I separate the bullsh*t from the talent. If y'all don't respect nothing else, respect my n*gga's talent."
Kevin Hart famously had a rap battle with Stormzy earlier this year and also declared his intention to drop a rap album as his alter ego Chocolate Droppa.