Meek Mill Takes Shots At 50 Cent, 50 Replies With A Series Of Hilarious Memes
18 January 2016, 09:57 | Updated: 18 January 2016, 10:38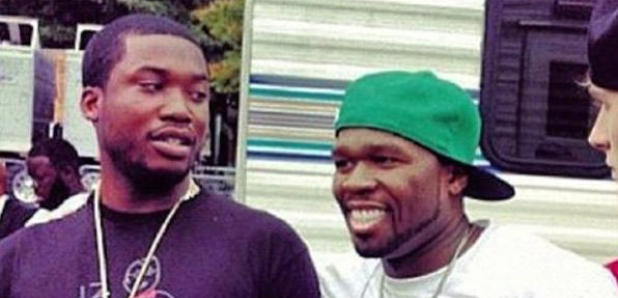 The Philly rapper sparked a war on Instagram.
Meek Mill has just started a new feud with 50 Cent, in the midst of his ongoing battle with Drake.
Everything started when Meek Mill released his new EP '4/4' in which he took a number of shots at the G-Unit boss - who is currently involved in a beef with Meek's boss Rick Ross.
"I got 50 reasons to say you're taking d*ck/ And 50 reasons I should kill ni**as," raps the Philly MC.
"But for real, ni**a, I been taking trips with my Phily ni**as/ Got the richest chick, she's from your hood."
Listen below:
He continues: "You know the game/ If you co-sign a rat, you are forever a rat/ We were never that / You tried to go Money May with that paper, but now you in debt cause you never was that."
In typical 50 Cent tradition, he fired back with a series of hilarious Instagram memes.
First he posted a photo of Meek's face in a poop emoji, alongside the caption: "LMAO Hey sh*t head, your career is over already. You focus on getting on getting Nikki pregnant so you can at least get child support girl."
Then an onslaught of memes continued:
Meek Mill then fired back with his own lenghthy response, taking shots at 50's current beef with Rick Ross - which forced the New York rapper into bankruptcy.
Meanwhile, 50 Cent and Rick Ross have continued to throw shots at each other.
Rozay recently told the Rolling Stone: "At this point, my relationship with Curtis is really amusing, due to the fact that I'm the biggest L he ever took.
"I'm still enjoying life. My kids love me. I'm blessed. And when it comes to Curtis, it's just unfortunate. I'm not happy that his boxing company went under. I'm not happy that his clothing company went under.
"I'm not happy his record label went under. I'm not happy that he went bankrupt. I'm not happy that he doesn't have a relationship with his son. That's not something to be happy about. But to see him parading around, still able to hold his head up every day, with all of that weighing on him—that makes me happy."