Meek Mill Sentenced To 2-4 Years In Prison, Hip-Hop Reacts
7 November 2017, 10:11 | Updated: 7 November 2017, 10:13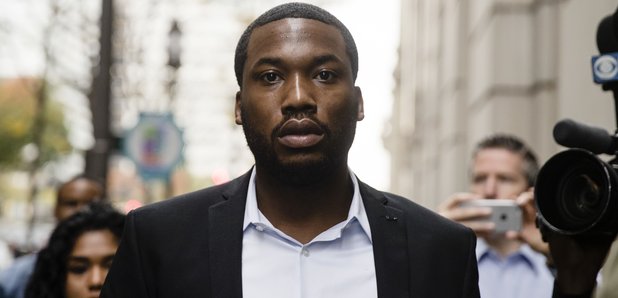 Meek is heading back to prison.
Meek Mill has been sentenced to 2-4 years in prison for violating the terms of his probation on a 2009 drugs and weapons case.
According to TMZ, the 'Wins & Losses' rapper, real name Robert Williams, was told the decision during a Monday court date.
The lengthy prison sentence follows a recent arrest for reckless driving in New York City and fighting at an airport in St. Louis.
HAPPENING NOW - Entertainer Meek Mill in a Phila. courtroom on numerous alleged probation violations. LIVE at 5 @CBSPhilly pic.twitter.com/Ku347T3UGU

— Joe Holden (@JoeHoldenCBS3) 6 November 2017
Although both cases were eventually dropped, the judge ruled that those arrests counted as violations.
Following the shocking decision, the Hip-Hop world has spoken out in defence of Meek Mill.
Taking to Facebook, JAY-Z wrote: "The sentence handed down by the Judge -- against the recommendation of the Assistant District Attorney and Probation Officer -- is unjust and heavy handed. We will always stand by and support Meek Mill, both as he attempts to right this wrongful sentence and then in returning to his musical career."
While others have shown support on Twitter:
To be yung Blac and successful YOU ENEMY NUMBER 1. HOLD YO HEAD @MeekMill streets chose u

— THA GREAT (@NipseyHussle) 6 November 2017
2-4yrs and both cases(if you call them cases) were dropped?? It's so blatant what they're doing. Stay focused @MeekMill

— Punch TDE (@iamstillpunch) 7 November 2017
Free @MeekMill

2 years? Really with what people are getting away with DAILY?

Political people and officers to be specific? Bullshit-Price

— Audio Push (@AudioPush) 7 November 2017
the system is rigged man. the fact he was on probation for 10yrs over sum paper wk is a set up! shit makes me so sad. prayin 4 u @MeekMill

— Angie Martinez (@angiemartinez) 7 November 2017
However some fans have been less supportive:
#BreakingNews :"Meek mill sentenced to 2-4 years in jail"

Nicki minaj an Drake + they fans:pic.twitter.com/VJ6EuqjERS

— Yung Patriot (@ihavestalkers_) 6 November 2017
How many times did Meek Mill have to violate his probation before y'all expected him to get put back in jail? Lol

— Aye Bruh (@Travis_McCorter) 7 November 2017
Meek Mill going back to jail: pic.twitter.com/hO9FpjEf7z

— Salty Music Stan(x2) (@SaltyMusicStan) 7 November 2017
Meek Mill previously violated his probation in 2014 and was sentenced to 3-6 months in prison.
While in 2015, he violated parole due to unapproved travel and urine test failure. He was then sentenced to three months house arrest.