Meek Mill Disses Drake On New EP '4/4', Twitter Thinks It's Hilarious
18 January 2016, 11:58 | Updated: 18 January 2016, 16:25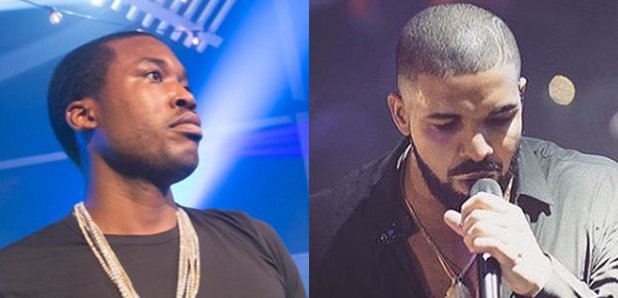 Meek has continued his war of words with Drizzy.
Meek Mill has reignited his ongoing feud with Drake after sending more shots at the Canadian rapper in his new EP '4/4'.
Following a six month absence from music, Meek Mill unveiled the new project - which is expected to be a prequel to his upcoming 'Dreamchasers 4' mixtape.
The EP hears Meek unleashing his aggression over four previously unheard songs.
However one track in particular caught the attention of fans – after Meek remixed Drake and Future's 'I'm Da Plug'.
First he made reference to his allegations that Drake uses a ghostwriter:
"Ain't nobody tell 'em, this ain't what they want man/ You ain't really write it, I'm like 'who's your stuntman?," he raps.
Then he took shots at Drake's appearance:
"Headbands and double parts, do y'all see them n*ggas?/ We the type to run up on 'em' try to leave them n*ggas/ We really started from the bottom, unlike them/ We them n*ggas.
"Was that my girl's tour or the world tour? I do not know what you pu**y ni***s goin' for."
Check out the best Twitter reactions below:
How many L's @MeekMill gonna take? A 4-song EP? And that @Drake "diss" record is sooooo weak! He should just stop. pic.twitter.com/YI6C7XaWxQ

— Mocha Frap (@mochafrap) January 17, 2016
Meek Mill: Nicki Love come listen to my new 50 cent & Drake Diss song. Nicki Minaj: oohh not again! pic.twitter.com/GSjkZzN389

— King Skiwo (@Skiwo) January 18, 2016
Just heard meek mill diss to drake pic.twitter.com/sBcY9SVumh

— Matt Hazel (@MattHazel_) January 16, 2016
Why is Meek Mill still trying to retaliate to Drake's diss. Fam that was last year. You lost lmao go see a counselor

— Del-lin-cy (@DeliNeli) January 17, 2016
Did meek mill really just drop a drake diss? Bruh it's 2016

— Julio Diaz (@jdiaz_26) January 16, 2016
People even thought some lyrics were aimed at Rihanna:
And what is this fallacy about Rihanna having relations with Meek Mill?

— MB (@m0beezy) January 17, 2016
MenkTheDon: Y'all expect us to believe Rihanna slept with Meek Mill? Lmao bye

— ഽhonƝavy (@JhoonNavy) January 17, 2016
I hope y'all know Meek Mill didn't diss Niki.... He was talking about Rihanna

— Shark Slayer (@TruthOfChis) January 17, 2016
Y'all stupid and know nothing about music. Meek Mill isn't talking about Nicki or Rihanna in those lines. He's talking about Maliah Michel

— Sensei. (@TorontoSensei) January 17, 2016
Meek Mill also aimed shots at 50 Cent on the EP, which sparked a number of hilarious exchanges over Instagram.