Has Kendrick Lamar Taken Shots At Drake On 'Compton'?
7 August 2015, 11:08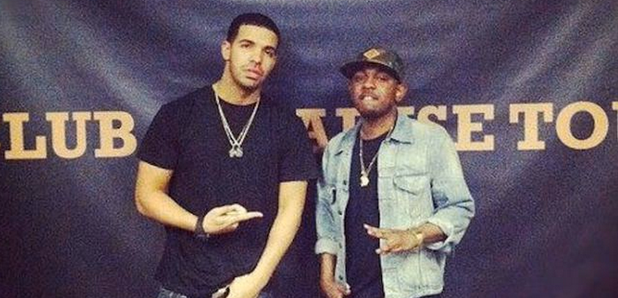 It sure sounds like it.
Following the release of Dr Dre's 'Compton,' his first album in 16 years, it appears that Kendrick Lamar may have thrown some shots in Drake's direction.
Some parts of Kendrick's verses on 'Darkside/Gone' and 'Deep Water' have some very interesting phrasing.
On 'Deep Water' he includes the line "Motherf****r know I started from the bottom" and mentions 'the six' - the phrase Drake uses to refer to his hometown.
He raps: "They liable to bury him/They nominated six to carry him/They worry him to death but he no vegetarian/The beef is on his breath inheritin' the drama like better than a Great White/Nigga, this is life in my aquarium!"
And on 'Darkside/Gone', Kendrick speaks about energy and subliminals.
He raps: "You scared of my heist now/But still I got enemies giving me energy/I wanna fight now/Subliminals sending me all of this hate/I thought I was holding the mic down."
Its also interesting to note that K. Dot possibly called out Drake for using ghostwriters on 'King Kunta', months before the Meek Mill feud.
However Drake is no stranger to subliminals, having sent shots Lamar's way on 'Used To' from 'If You Reading This Its Too Late'.
He rapped: "They gon' say your name on the airwaves/They gon' hit you right after like it's only rap," in reference to Kendrick's infamous 'Control' verse.
With Drake in the currently in the mood for sparring, after releasing 'Charged Up' and 'Back To Back', aimed at Meek Mill, it will be interesting to see if he responds.