Kendrick Lamar Spotted Hanging Out On Top Of A Streetlight for 'Alright' Video
29 May 2015, 10:18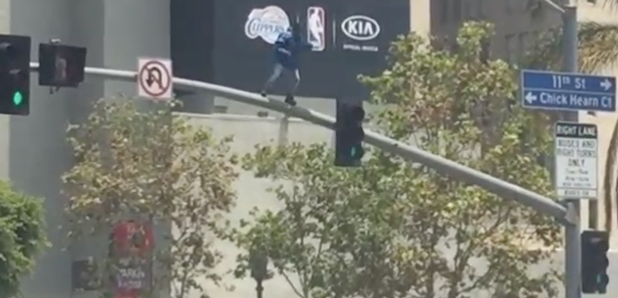 The rapper seems to be living the high life.
Kendrick Lamar was spotted rapping from a streetlight while filming the music video for 'Alright' in Los Angeles.
The Compton rapper was seen above the traffic lights of a junction in downtown LA, safely suspended by a harness.
It's not the first gravity-defying stunt the rapper has pulled for the video for his 'To Pimp a Butterfly' track. Photos emerged earlier this week of the rapper hanging upside down, surrounded by a crowd of fans in Oakland.
Watch the clips above and keep your eyes peeled. God knows where K.Dot could turn up next.