Kendrick Lamar Sits Down For Inspirational Meeting With President Obama
12 January 2016, 10:02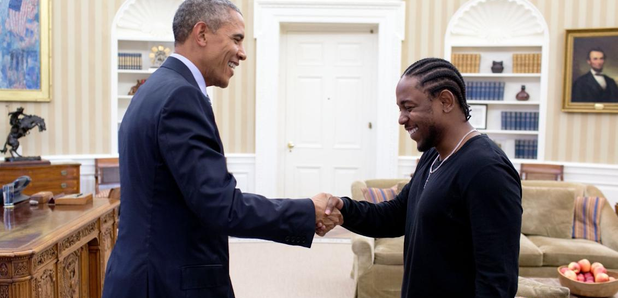 The rapper is supporting Obama's mentor campaign.
Kendrick Lamar visited the White House and met with President Obama in a new motivational public service announcement.
The Compton rapper is part of Obama's new initiative called 'My Brother's Keeper', which is about encouraging people to mentor others.
"I sat down with President Barack Obama and shared the same views, topics concerning the inner cities, the problem, the solutions, and further more embracing the youth, both being aware that mentoring saves lives," he says.
Watch the monumental meeting below:
The rapper also shares exclusive photos from his visit to the White House, where he met President Obama.
He takes a seat in the Oval Office and shakes hands with the President in front of a portrait of Abraham Lincoln, as he discussed a number of topics concerning youth and opportunities.
Meanwhile, last year Obama chose Kendrick Lamar's 'How Much A Dollar Cost' as his favourite song of 2015.
K. Dot's latest album 'To Pimp A Butterfly' has been nominated for 11 Grammys at this year's awards.