Watch Kendrick Lamar's Show-Stealing Grammys Performance
16 February 2016, 08:34 | Updated: 16 February 2016, 14:07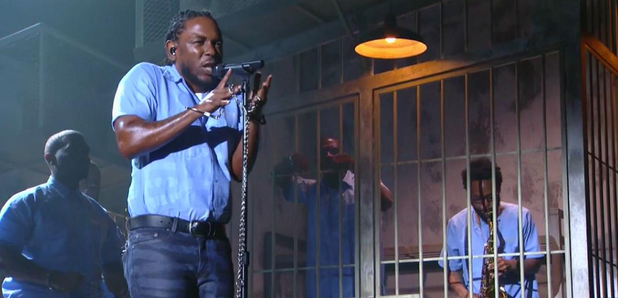 The 'To Pimp a Butterfly' rapper came away with five awards on the night
Kendrick Lamar's politcally charged performance stole the show at this year's Grammy Awards.
The Compton rapper, appeared on-stage dressed in prison overalls and shackled in chains to perform 'Blacker The Berry'.
He followed the 'To Pimp a Butterfly' song with 'Alright', rapping in front of a towering bonfire surrounded by dancers and drummers in tribal costumes.
Lamar also debuted a new freestyle, 'Untitled 3', that alludes to the shooting of Trayvon Martin in 2012. "Twenty twelve was taken from the world to see / Set us back another four-hundred years / This is modern day slavery," rapped Lamar.
As his storming performance came to an end, an image of the outline of the African continent appeared behind Lamar with the word 'COMPTON' written on it.
Lamar was nominated for 11 Grammy Awards and came away with five for Best Rap Song, Best Rap Performance, Best Rap/Sung Collaboration, Best Music Video and Best Rap Album. He lost out on Best Album of The Year which went to Taylor Swift.