Watch Kendrick Lamar's Impromptu Rap Cypher With Fans In Manchester
17 March 2016, 09:56 | Updated: 17 March 2016, 11:07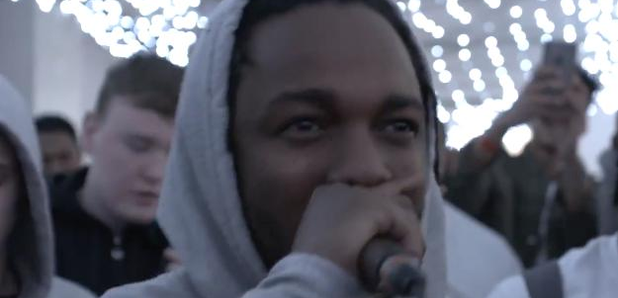 The rapper was in Manchester as part of a Reebok promotion.
Kendrick Lamar surprised fans in Manchester when he decided to pick up a microphone and get involved in an impromptu cypher.
The Compton rapper was in the city hosting a Hip Hop workshop for 40 young musicians when he decided to accept the challenge and throw down some improvised lines.
Watch below:
After one of the MCs had a few joking lyrics about Kendrick not being able to "whoop" his "ass", the 'To Pimp A Butterfly' rapper grabbed the mic back.
"You can't see me, never met an MC that's f*cking shorter than me".
Kendrick also freestyled with more fans and appeared to enjoy the challenge of improvising on the spot.
Meanwhile, K Dot recently released his surprise EP 'Unmastered Untitled', which topped Billboard charts.