Kendrick Lamar & Travis Scott Release Catchy Black Panther Single 'Big Shot' - LISTEN
9 February 2018, 13:07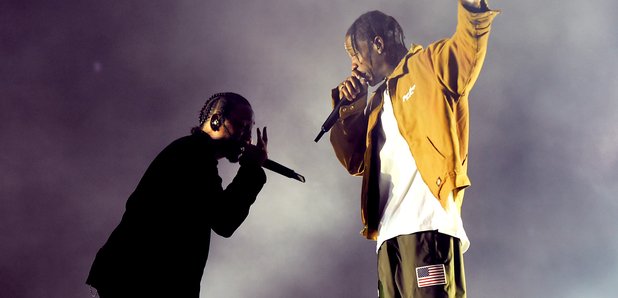 The 'Goosebumps' rappers are back for another one!
Kendrick Lamar and Travis Scott have released new song 'Big Shot' taken from the official Black Panther soundtrack.
The pair, who previously combined on hit single 'Goosebumps', reunited for a movie-themed track with a huge bassline.
"Big Top Dawg and I dance on 'em like Diddy, Pop off and I pop back like Fiddy, I hit the ceiling and forgot about the floor," raps Kendrick Lamar.
Listen to Kendrick Lamar and Travis Scott's track 'Big Shot' below:
Meanwhile, Travis Scott, who just recently welcomed a baby with Kylie Jenner, adds his own auto-tuned verse.
"I need my engine, she need extensions, Don't be the center-attention, just play your position, Got my life on the admission 'cause they been up fishing," he raps.
Kendrick Lamar and TDE's 'Black Panther: The Album' also features appearances from SZA, ScHoolboy Q, Ab-Soul, and Jay Rock.
Other guests include The Weeknd, Travis Scott, Future, 2 Chainz, Khalid, Swae Lee, Vince Staples, Jorja Smith, Anderson .Paak, Zacari, Mozzy, and more.
Stream 'Black Panther: The Album' via Apple Music.