Kanye West Talks About Wireless Booing, Says It "Hurt" And He's "Not Invincible"
7 July 2014, 15:15 | Updated: 7 July 2014, 15:57
Watch Kanye's reaction during his headline set in Birmingham.
Kanye West has reacted to reports that he was booed during the opening two nights of this year's Wireless Festival in London, admitting that he was left "hurt" by the suggestion.
The rapper admitted that he was "not invincible" during a short five minute speech to the audience at the final night of the Birmingham leg of the Wireless festival last night (6th July).
On Friday and Saturday, Kanye's two headline sets at Finsbury Park in London both featured lengthy speeches to the audience, which apparently left some fans booing.
Addressing the suggest that he was booed during his set at Perry Park in Birmingham, Kanye said:
"In the media what they wrote is that people booed... at this festival, that's what they wrote. And you know what, I'm not gonna lie, I'm not invincible. It hurt me a little bit because I know how much of a good time everybody had."
Kanye then went on to jokingly apologise that he would not be repeating the speeches in Birmingham.
And I'm sorry if tonight I'm not the complete belligerent a**hole as my usual lovely self. I'm playing off a slight sprained angle, but don't worry I'll be back. So forgive me for giving you this politically correct as... boring non-brave explanation of our current social and society situation. Please forgive me for being nice."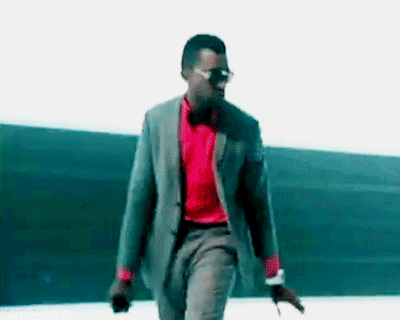 (via Giphy)