Watch Kanye West Perform On His New Flying 'Saint Pablo' Stage
26 August 2016, 09:59 | Updated: 26 August 2016, 10:08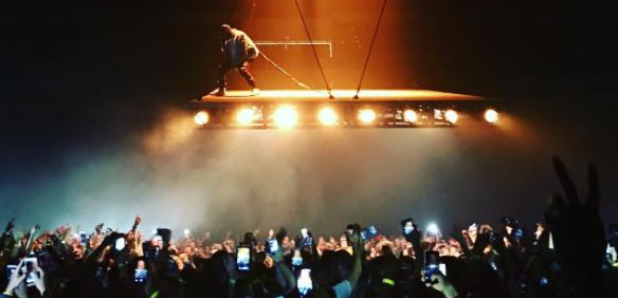 This looks incredible.
Kanye West premiered his unbelievable new live set during the first leg of his Saint Pablo tour – featuring a flying stage.
The 'Famous' rapper, who is known for his extravagant live performances, appears to perform above the crowd on a moving stage in mid-air.
According to Kanye's visual collaborator Virgil Abloh, the idea is that there is "technically no stage".
Watch footage from the show below:

Kanye West performed his first Saint Pablo show at Bankers Life Field Arena in Indianapolis, featuring a number of 'TLOP' songs for the first time.
Meanwhile, it has been announced that Yeezy has been given four minutes of air-time "to do with as he pleases" at this weekend's MTV Video Music Awards.
Last year Kanye famously received a Vangard award from Taylor Swift and declared his intention to run for US President in 2020.