WATCH: Jimmy Kimmel Fools Kanye Fans With Hilarious New 'Yeezy Boost 2000'
20 October 2016, 10:53 | Updated: 20 October 2016, 11:03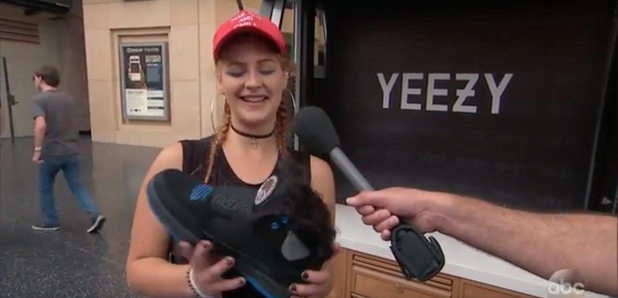 "Let em know where you walkin' at"
Jimmy Kimmel pranked some die-hard Kanye West fans by faking a ridiculous new Yeezy release - the 'Yeezy Boost 2000'.
Kimmel took to the streets of LA with his handmade creation and asked fans what they thought of the 'brand new' shoe.
Watch the hilarious reactions below:
The original pair of sneakers was purchased for $12.50 from a shop in Chinatown, before Kimmel and the team added a compass and some black fur lining.
The knock-off pair, dubbed the 'Yeezy Boost 2000', resulted in some brilliant responses from avid Yeezy followers.
"I feel like I would be able to jump higher in these," exclaimed one.
"You got the compass right here, so you let em know where your walkin' at," said another.
The hoax was posted just a day before a mysterious Kanye West 'Pablo Supply' merchandise website appeared online.
A password was required to access the secret site, leaving many fans unsuccessful.