Watch: A Kanye West Fan Tried To Climb His Floating 'Saint Pablo' Stage
13 September 2016, 14:38 | Updated: 14 September 2016, 09:13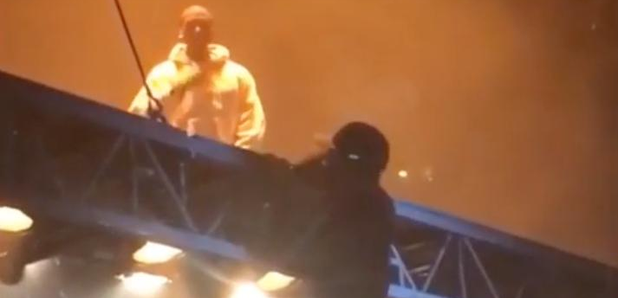 Yeezy waved him away.
Kanye West was forced to intervene after a fan tried to climb onto his floating stage at his Saint Pablo tour.
The keen Yeezy fan attempted to lift himself onto the stage at Atlanta's Philips Arena, before falling back into the crowd after Kanye spotted him.
Watch below:
Yeezy has been using his floating stage design on his current Saint Pablo tour, with the idea that there is "technically no stage".
"I wanted people to get into it and have a fun time, [and] make it not be just about watching the artist, but people watching their friends and singing along to the lyrics and being able to see themselves, their outfits," Kanye told E! News.
"It's not just about what you're seeing on the screen or what you're seeing me do on the stage," he added. "But what you and your friends are doing".