Kanye West Names Tyga As Newest G.O.O.D. Music Member, Twitter Can't Cope
8 September 2016, 11:01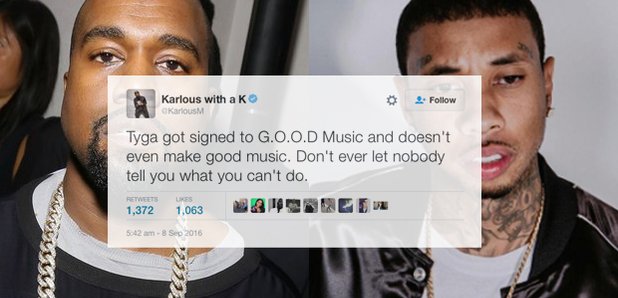 Tyga x Yeezy.
Kanye West has officially named Tyga as the latest member of his G.O.O.D. Music record label.
Yeezy made the big announcement during his Yeezy Season 4 fashion show in New York last night.
"Welcome to the stage, new G.O.O.D. Music family Tyga and Desiigner," said Kanye.
Watch below:

Tyga joins the G.O.O.D. Music roster which currently includes Big Sean, John Legend, Travis Scott, Teyana Taylor, Cyhi The Prince and more.
Kanye West and Tyga previously collaborated on his 2015 project 'The Gold Album: 18th Dynasty' and also have a connection through Kylie Jenner and Kim Kardashian.
Some fans on Twitter have reacted hilariously to the news.
Check out some of the best below:
Tyga signed with GOOD Music but can't make good music pic.twitter.com/OAcickGf7v

— Papi Yeezy (@7_randy) 8 September 2016
Kylie got Tyga a deal with GOOD Music and y'all females won't put your mans SoundCloud link in your bio...

— Yaphet Kotto (@SupremeGOAT23) 8 September 2016
Kanye signed Tyga to GOOD Music.
Don't ever tell me that Kanye isn't charitable.

— ronald isley (@yoyotrav) 8 September 2016
Kanye signed Tyga to help him pay his phone bill and car on time but we all got bills bruh and we not asking to be signed to GOOD Music...

— ORTEASY (@alexisorteasy) 8 September 2016
Kardashian family ruining Kanye tbh. Tyga would've never smelled the GOOD Music office if Kanye wasn't trying to help his family members.

— thisniggaugly. (@_AllUpOnThat) 8 September 2016
GOOD music , a collective of some of the best artists in music today. And Tyga.

— killa steve (@Steezus_) 8 September 2016
When you find out @Tyga just signed to GOOD Music.. pic.twitter.com/tek5V9r0WD

— HDLSD (@itshdlsd) 8 September 2016
Interestingly, Tyga's previous record labels Young Money and Cash Money still list him as signed artist on their respective websites.