Taylor Swift Shuts Down Kanye West During Grammy Speech: "People Will Try To Undercut Your Success"
16 February 2016, 07:30 | Updated: 16 February 2016, 09:01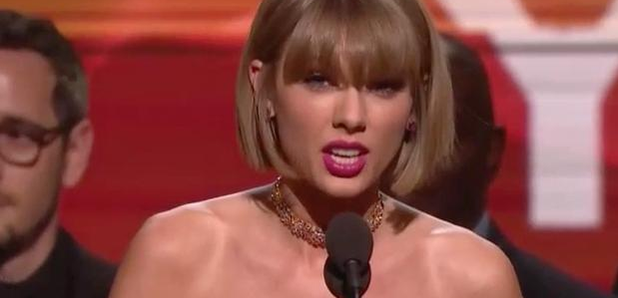 Swift has responded.
Taylor Swift has fired back at Kanye West after the rapper appeared to diss her on a song from his new album 'The Life of Pablo'.
While picking up an award for Album Of The Year, the singer responded to Yeezy's claims that he is responsible for her success.
"I want to say to all the young women out there, there are going to be people along the way who will try to undercut your success or take credit for your accomplishments, or your fame," began Swift.
Watch below:
She continued: "If you just focus on the work and you don't let those people sidetrack you, someday when you get where you're going, you'll look around and know that it was you and the people who love you who put you there.
"That will be the greatest feeling in the world."
On new song 'Famous' Kanye makes a reference to the infamous MTV VMAs moment between the pair in 2009, where he interrupted her on stage.
Ye' claims that he spoke with Swift before he released the song, although her reps denied it.
Swift, who also performed at the awards, won three awards for 'Album Of The Year', 'Best Music Video' and 'Best Pop Vocal Album'.