Kanye West Nearly Storms Stage After Beyoncé Loses Grammy Award To Beck
9 February 2015, 07:24 | Updated: 9 February 2015, 09:47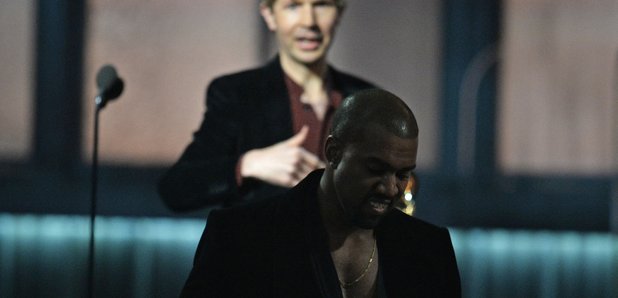 Kanye announced that he thinks Beck "should have given his award to Beyoncé."
Kanye West has pulled a 'Kanye,' storming the stage at the 2015 Grammy Awards after being unhappy with Grammys decision to award Beck with 'Album Of The Year,' over Beyoncé.
The 'Bound 2' rapper, who famously crashed Taylor Swift's acceptance speech when she beat Beyoncé's 'Single Ladies' to win 'Best Video' at the 2009 VMAs, walked on to the stage as Beck accepted his award, but seemingly backed out of saying too much.
But Kanye didn't hold back his feelings all night, during an interview with wife Kim Kardashian after the incident happened, Kanye West told E that "Beck needs to respect artistry" and "he should have given his award to Beyoncé."
The reason that he backed out of saying something on the Grammys stage itself, Kanye says is because of his daughter North West.
"I got my wife, my daughter, and I got my clothing line, so I'm not going to do nothing that would put my daughter at risk, but I am here to fight for creativity. That's why I didn't say anything tonight, but you all knew what it meant when 'Ye stepped on that stage."
For the split second that Jay Z and Beyoncé though that Kanye West was actually about to take over the stage in Beyoncé defence, the 'Drunk In Love' couple looked totally horrified.