Kanye West Signs Fan's Yeezys, Then Tells Him They Are Fake
20 May 2014, 10:00 | Updated: 31 March 2017, 20:24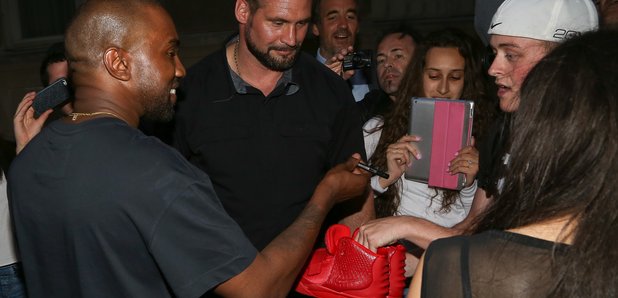 "These are not real though."
What happens when you ask Kanye West to sign your fake Yeezys? One fan found out when he approached Kanye West as the rapper was leaving a restaurant in Paris.
Fans crowded around to ask for autographs and selfies, with one asking Kanye to sign his 'Red October' Yeezy 2s. But 'Ye instantly spotted the trainers were fake.
"These aren't real, you know that right?" Kanye told the fan. But he signed them anyway, smiling and saying "It's fine" before leaving in his car.
In April Kanye West announced during a speech that the 'new Adidas Yeezys' are due to drop in June.