Kanye West Responds After Being Slammed For Using His Phone During Broadway Show
4 December 2018, 12:04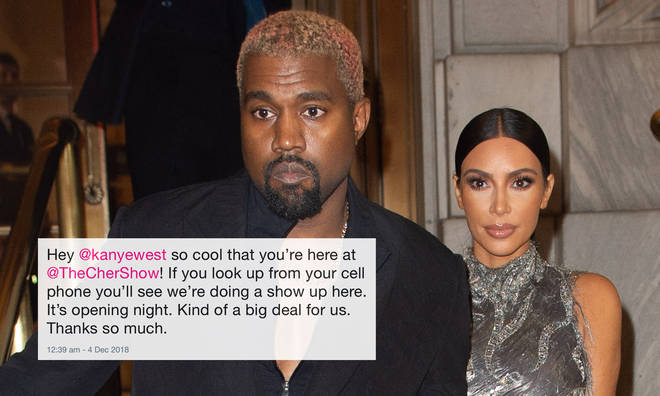 The 'I Love It' rapper spoke out after a cast member of 'The Cher Show', a new broadway musical, called him out on his lack of theatre manners.
Kanye West has apologised after being called out by a cast member of 'The Cher Show', a new Broadway production about Cher's life.
The 41-year-old rapper was attending the opening night of the show in New York City with his wife Kim Kardashian, 38, but ended up leaving one particular actor unimpressed.
Jarrod Spector, who plays Sonny Bono in 'The Cher Show', tweeted the rapper mid-show and implored him to stop using his mobile phone during the performance.
"Hey @kanyewest so cool that you're here at @TheCherShow!" he wrote. "If you look up from your cell phone you'll see we're doing a show up here. It's opening night. Kind of a big deal for us. Thanks so much."
West soon responded, apologising for his approach to theatre manners and praised the cast on their "masterpiece", adding that Cher and Sonny's relationship means a lot to both him and Kim.
"The dynamics of Cher and Sonny's relationship made Kim and I grab each other's hand and sing 'I got you babe' please pardon my lack of etiquette," he wrote.
"We have so much appreciation for the energy you guys put into making this masterpiece."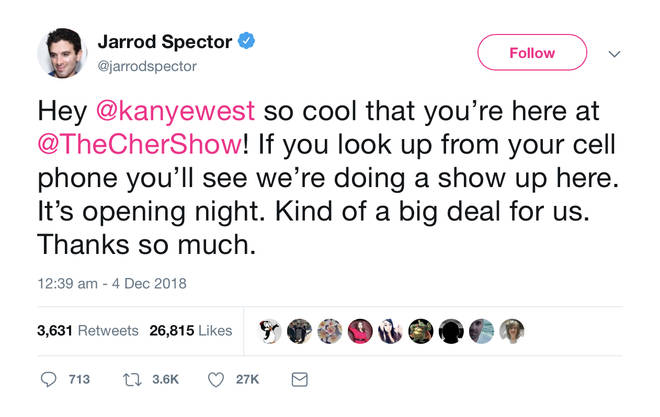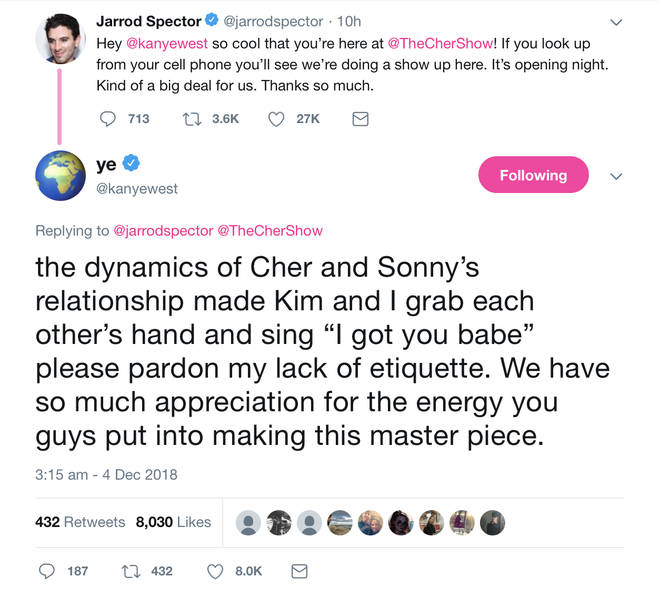 A representative for West addressed the situation. "Kanye was on his phone taking notes. He loved the show and was incredibly impressed by the production," they told the New York Times.
Meanwhile, Kanye West is set to feature on the late XXXTentacion's first posthumous album, 'Skins,' which drops this Friday. West also recently appeared on incarcerated rapper 6ix9ine's latest album, 'DUMMY BOY'.