Kanye West And Drake Fire Back At Kid Cudi After Twitter Diss
15 September 2016, 10:18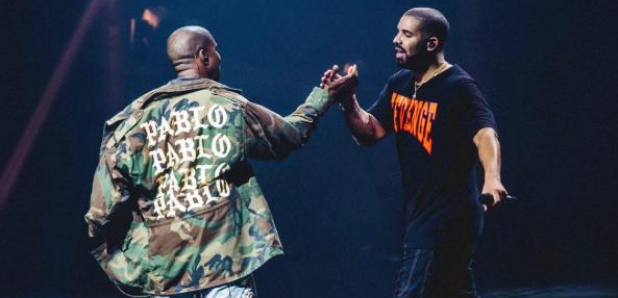 "I birthed you! Respect the God!"
Kanye West and Drake have hit back at rapper Kid Cudi after he accused them of "being fake" and turning their back on his career.
In a lengthy Twitter rant yesterday, Kanye's former protégé Cudi also accused both rappers of not writing their own music.
However Yeezy was quick to fire back on stage at his Saint Pablo show in Florida.
"Kid Cudi, don't ever mention Ye's name. I birthed you!" he said during a performance of 'Don't Like'.
"Don't try to say who I can do songs with. You mad 'cause I'm doing songs with Drake. Ain't nobody telling 'Ye who to do songs with. Respect the God!"
Watch his huge rant below:

Drake also appeared to send a subtle jab at Cudi during his latest Summer Sixteen show.
"Boy you getting way to high, you need to Cud it," he said.

The feud began when Kid Cudi wrote: "The fake ones won't be lasting too much longer.
"They know I don't give a f*ck about the corny sh*t they do. I keep silent, because I don't ever want to come off like some angry hater.
"My tweets apply to who they apply – Ye, Drake, whoever. These n***as don't give a f*ck about me, and they ain't f*cking with me."
See his full Twitter rant below:

Kid Cudi has frequently collaborated with Kanye West throughout his career and was influential on albums including '808's & Heartbreaks' and 'Graduation'.
Meanwhile, Kanye West recently confirmed his upcoming joint album with Drake.