Here's The Real Reason Kanye West Wasn't Invited To Perform At Donald Trump's Inauguration
20 January 2017, 10:14 | Updated: 20 January 2017, 10:16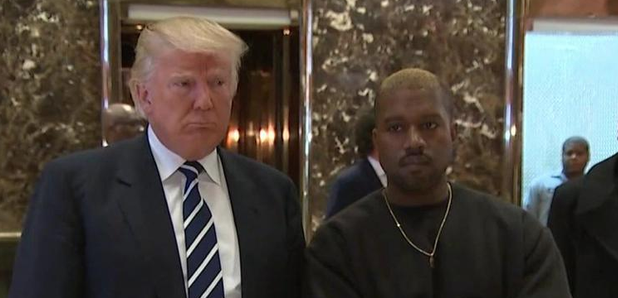 Fans are not impressed.
Despite being outspoken about his admiration for Donald Trump, the rapper surprisingly wasn't invited to perform at his inauguration.
The news was confirmed by Presidential Inauguration Committee Chair, Tom Barrack Jr., who explained the decision.
When asked about Kanye's involvement, Barrack told CNN: "We haven't asked him. I mean, he's been great. He considers himself a friend of the president-elect, but it's not the venue. The venue we have for entertainment is filled out. It's perfect.
"It's going to be typically and traditionally American. Kanye's a great guy. We just haven't asked him to perform. We move on with our agenda."
However many fans weren't happy with Barrack's choice of words, which suggested the American rapper didn't qualify as "typically and traditionally American."
Typically and traditionally American? Is that how we say 'white' these days? https://t.co/A21xaiOZN6

— Ross Greer (@Ross_Greer) 19 January 2017
"Typically and traditionally American" seems like a very long-winded way of saying "white." https://t.co/46qAJxudrZ

— Dan Kelly (@ObiDanKelnobi) 19 January 2017
People of color aren't second-class, according to the incoming administration. They're just not "typically and traditionally American." https://t.co/Q2DwdwCTEE

— Anand Giridharadas (@AnandWrites) 19 January 2017
If there is anything more typically and traditionally American than hip-hop, I don't know what it is. https://t.co/wuwRJ0j1sh

— Myke Cole (@MykeCole) 19 January 2017
Donald Trump's inauguration has divided many people, with soul singer Chrisette Michele being criticised for confirming that she will perform.
In an open letter she wrote, "My heart is broken for our country, for the hopes of our children, for the fights of those who came before us."
"I cry at the thought that Black History, American History might be in vain. This country has had great moments. God has shined His light upon us.
"Today, I hope that Great Moments begin in peaceful & progressive conversation. I am willing to be a bridge. I don't mind These Stones, if they allow me to be a voice for the voiceless."
Meanwhile, Kanye has also received a backlash for openly endorsing Donald Trump.