Piers Morgan Claims Kanye West Is Responsible For White Girls Using The N-Word
22 September 2017, 10:41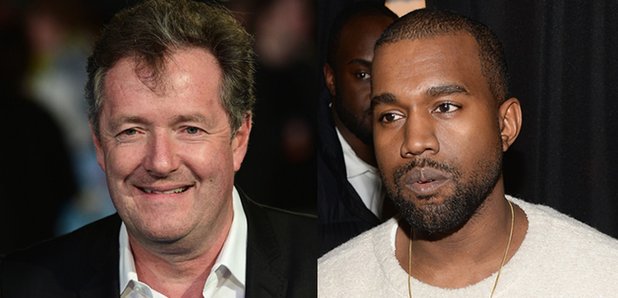 The controversial journalist made the comments in his recent column.
Piers Morgan has suggested Kanye West is to blame for white girls using the n-word.
On Thursday, the journalist published a column with the headline: "Don't get angry about a bunch of white girls singing n***as, blame Kanye and the rap industry for putting it in their songs in the first place."
The column was written in response to a viral video involving a group of University of New Hampshire sorority girls singing along to West's 2005 hit 'Gold Digger'.
The footage hears the girls singing the n-word, which lead to online outrage and an investigation by University officials.
In his write-up, Morgan labelled the the response to the video "ridiculous", and questioned whether the controversial term should still be viewed as racist.
Should white girls be allowed to sing 'niggas'?
New column posting very soon.

— Piers Morgan (@piersmorgan) 21 September 2017
"How can it possibly be racist to sing along to a song that was No1 in America for TEN WEEKS? And is the word 'n***a' racist anyway?" he said.
"Oh, I know the word 'n****r' from which it is derived is racist. We all know that… But even among black people there is disagreement as to whether the word 'n***a' is actually a racist or offensive term at all."
Morgan argues that the word now translates to the term "buddy" and as such "can be used by anyone, black or white."
On the 'Ultralight Beam' rapper, Morgan claims white audiences are being exploited by rappers, so they should be able to singalong to any of the words featured in their songs.
"Rap music isn't sold or marketed exclusively to white people," he says, "Superstars like Kanye West target and exploit white audiences for their music just as enthusiastically as they target and exploit black audiences.
"So how can they, or anybody else for that matter, complain if a white person sings the very words they have written in No1 hit song?"
Morgan added: "To me, there is no difference between 'n****r' and 'n***a'. They sound exactly the same, and are therefore open to permanent confusion and the exact same capacity to offend."
"But if rappers like Kanye West insist on using it, and writing songs with the word in either form, then it is absolutely predictable and understandable that their fans will sing the songs just as they hear them – regardless of the colour of their skin."
"These Alpha Phi Sorority sisters did nothing wrong. If you want someone to blame, then blame Kanye West," he concluded.
Following the articles publication, the 'Good Morning Britain' presenter has faced a great deal of online criticism.
Why does Piers Morgan, a white man, think he has any right to an opinion on the topic of the N word? pic.twitter.com/w8Q7nbqi18

— Shaziya (@ShaziyaLM) 22 September 2017
Hey Piers Morgan,

Fuck off.

Sincerely,
Twitter

— Frederick Douglass (@HITEXECUTIVE) 21 September 2017
piers morgan is actually obsessed with getting reactions out of black people. he's actually sick in the head.

— mi (@helloalegria) 21 September 2017
There are bad ideas and then there's what Piers Morgan just tweeted.

— mike freeman (@mikefreemanNFL) 21 September 2017
West is yet to respond to the column.