Drake Brings Out Kanye West To Perform Black Skinhead In Berlin
28 February 2014, 09:34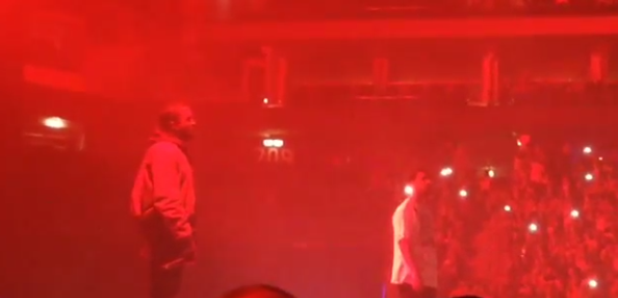 First Rihanna, now Kanye. Who will Drake welcome to the stage next?
Every week is a good one to see Drizzy Drake in concert, but the Started From The Bottom rapper has outdone himself this week.
Thursday night (26th February) saw Drizzy take to the stage in Berlin during the European leg of his Would You Like A Tour tour, and he had a special guest join him. Video footage caught on audience members mobile phones shows Kanye West joining Drake on stage to perform Black Skinhead.
The performance comes weeks after Drake was quoted insulting Kanye's Yeezus album in Rolling Stone, he said: "There were some real questionable bars on there... Like that 'Swahili' line? Come on, man. Even Fabolous wouldn't say some sh*t like that". But during his own tour, Yeezy responded, explaining he wasn't bothered about the comments.
Watch the two hug it out below.
Earlier in the week Drake brought Rihanna out during to perform Take Care together during his Paris show. Watch the performance here.