Kanye West Plays Surprise London Gig, Joined By Skepta, Big Sean
4 March 2015, 09:25 | Updated: 6 August 2015, 12:32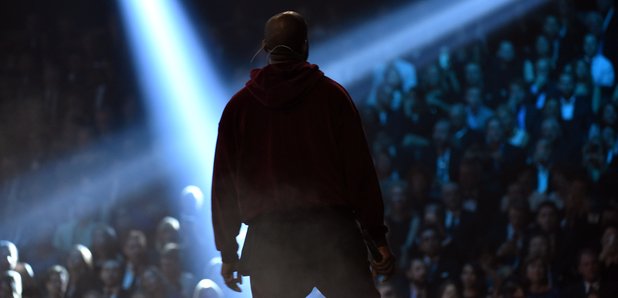 Here are the full details on Kanye's historic return to London.
Kanye West played a surprise concert at London's KOKO in the early hours of this morning (4th March), during which he was joined by the likes of Skepta, Meridian Dan and Big Sean.
The rapper only announced details of the gig yesterday evening, and tickets sold out in minutes with sales being limited to two per person.
Taking place less than a week after Kanye's performance at the BRIT Awards, which saw him accompanied by the leading artists in UK grime, last night's gig again acknowledged the UK scene, with Skepta and JME's 'That's Not Me' kicking things off.
Kanye then ran through a series of his biggest hits, including 'Mercy' with Big Sean, while the set continued to be punctured by songs from the rapper's co-MCs on the night. Raekwon also made an appearance to perform Wu-Tang's 'C.R.E.A.M'.
Capital XTRA's Manny Norte was at the gig and this is what he thought:
"It was an historic night in terms of an artist such as Kanye West co-signing the UK. I've never seen anything like it. The whole thing - Boy Better Know, the energy from the crowd, Raekwon coming on. No one was supporting, it was just everyone on the stage; G.O.O.D Music and Boy Better Know."
Here's what Twitter thought:
#Kanye currently introducing London to Grime. Thanks. #Koko

— Thomas Hannan (@thomasahannan) March 4, 2015
Kanye gig was incredible. BBK a full part of the show. Novelist, Skepta, JME and Meridian Dan got their own spots in Ye's set.

— TomThorogood (@TomThorogood) March 4, 2015
HISTORY. @kanyewest @BigSean @Skepta @JmeBBK @Novelist @VicMensa @Meridian_Dan @CyhiThePrynce OPEN THE SHOW. #KoKo pic.twitter.com/ze5YrsVSOR

— GRM DAILY (@GRMDAILY) March 4, 2015
On Instagram the vibes were real:
Here's the full Kanye West KOKO setlist, according to NME.
'That's Not Me'
'Mercy'
'German Whip'
'96 Fuckries'
'Cold'
'So Appalled'
'CyHi Freestyle'
'Blessings'
'All Me
'Clique'
'RBX'
'Shutdown'
'New Slaves'
'Wolves'
'U Mad'
'Power'
'Can't Tell Me Nothing'
'I Don't F**k With You'
'All Of The Lights'
'Good Life'
'Jesus Walks'
'It Ain't Safe'
'Don't Like'
'Black Skinhead'
'C.R.E.A.M.'
'Blood On The Leaves'
'All Day'