Kim Kardashian 'Reveals' Baby Name After Dropping Huge Hint About Newborn Son
14 May 2019, 13:28 | Updated: 14 May 2019, 13:30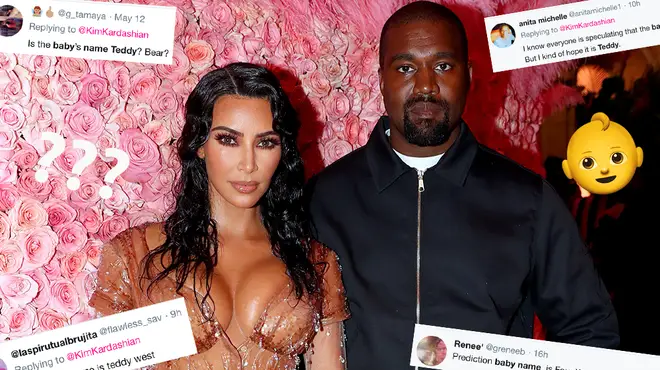 Kim Kardashian and Kanye West's fans have gone into a frenzy on Twitter after she 'revealed' the name of their newborn son...
Since Kim Kardashian announced the arrival of her newborn son, fans have been suspecting what her and Kanye West will name their baby.
The now mother of four, has posted two tweets that have sent hers and Kanye's fans on a frenzy. The posts have fans assuming that Kim and Kanye's son may be named 'Bear West' or 'Teddy West". 
Kim Kardashian took to Twitter to share a throwback post of her CBD themed baby shower. The reality TV star turned lawyer trainee, captioned the photo's with a teddy bear emoji.
Fans quickly jumped to conclusions and took the caption as a hint to Kim and Ye's newborn sons' name.
One user took to Twitter and replied to Kim's post saying "Bear west? Teddy west? Theodore west?".
Another user asked "Is the baby's name Teddy? Bear?".
A user added "I know everyone is speculating that the babies name is Bear, which is adorable. But I kind of hope it is Teddy".
I think the Bear West is a cool cool name

— I HEAR VOICES (@blackhorsesweet) May 13, 2019
Kim also shared how "perfect" her newborn son is. She also claims he's the most "calm and chill" of all her children, which fans guess is due to the CBD baby shower.
We celebrated our baby boy about a week ago and now he's here! He's so perfect! Here are some pics of my CBD baby shower. I was freaking out for nothing because he is the most calm and chill of all of my babies so far and everyone loves him so much 🧸 pic.twitter.com/bYH1E2WXHY

— Kim Kardashian West (@KimKardashian) May 11, 2019
Kim Kardashian previously revealed:
"I was truthfully thinking about naming him Rob, my brother, Rob," she said on Jimmy Kimmel Live.
She continued: "But then it's like North, Saint, Chicago, Rob. It doesn't really go, but I really was feeling that or like Robert, and my brother approved it".