Jeffree Star addresses Kanye West dating rumours in new video
8 January 2021, 10:53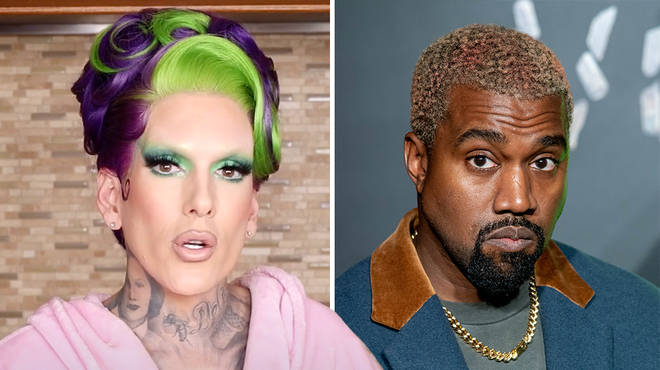 The YouTube star has made a video addressing claims that he slept with Kim Kardashian's husband, Kanye West.
Jeffree Star has spoken out on claims that rapper Kanye West cheated on his wife Kim Kardashian, with the YouTube star.
Earlier this week, multiple news outlets reported that Kim Kardashian is getting ready to file for divorce with Kanye West after six years of marriage.
According to Page Six sources, Kim's "final straw" was Kanye's 2020 presidential bid, where he revealed Kim almost aborted their daughter, North West.
However, another theory about what led to their split is that Kanye had cheated on Kim with Jeffree Star.
The rumour reportedly gained traction after TikTok user Ava Louise, alluded to Kanye cheating with Star.
Patty Eminger, another TikTok user released a follow up video where she reeled off reasons why the rumour may be true.
The list included the fact Star had moved to Wyoming, where Kanye has a house and an unofficial report claiming Kim had gave her attorney proof of Kanye's infidelity.
Star sparked the rumours further when he posted a Twitter photo of himself standing outside in Wyoming, while sporting reflective glasses.
In the reflection of Star's glasses, fans spotted a person who they claimed to be Kanye.
In another photo, Star captioned a photo of himself "ready for Sunday Service," an apparent reference to Kanye's church service.
On Wednesday (Jan 6) Star posted a YouTube video titled "Addressing The Kanye Situation,"  denying he slept with Kanye.
"I'm single. I'm not sleeping with anyone," Star said. "I like very tall men. Me and Kanye have never hung out, and this whole thing is really funny ... How did we even get to this moment? How would that even be made up? Because we both live in the same state?"
Watch the full video below.
What do you think? Let us know @CapitalXTRA