Kanye West Said The Grammys Incident Was Down To "The Voices In His Head"
12 February 2015, 09:58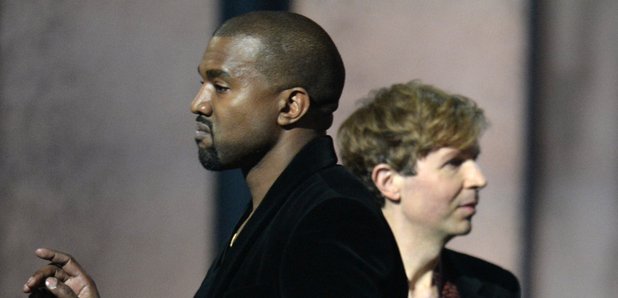 Listen to what is possibly one of Kanye West's best interviews of all time.
Kanye West has spoken out about the moment he nearly stormed Becks' acceptance speech at the Grammy awards, putting the act down to "the voices in [his] head."
The 'FourFiveSeconds' rapper delved into what really happened that night in a recent interview with Ryan Seacrest, claiming that he doesn't have the right to take away from peoples moments and the move on to the stage was a "joke."
"You know, I felt like just the whole Grammys, right when that happened, everybody was looking at me and then people started screaming, 'Kanye! Kanye! Go do it!'" He said. "Ok, that didn't really happen, these were voices in my head."
"So the voices in my head told me go and then I just walked up like halfway up the stage. You know, what I really wanted to do is just joke around about what had happened before, but I just really didn't want to take away from Beck's moment... So I just walked back down because you know, it was kind of a joke like the Grammys themselves."
Listen to Kanye West's full interview below:
Kanye used the interview to stress that he didn't defend Beyoncé, or interrupt Beck, because of either of their colours. "It's not a black or white thing at all," he said. "It's not me always standing up for a black artist. I feel that racism is a distraction to humanity. We are one race. We are the human race, period"
Six years after he famously interrupted Taylor Swift at the VMA awards, announcing on stage that Beyoncé should have won over her, Kanye and Taylor made amends at the awards ceremony and has now announced that the two intend on getting in the studio together to work on some new music.