Fans Are Savagely Mocking Kanye West's Yeezy 'Mud Rat 500' Trainers
9 November 2017, 11:34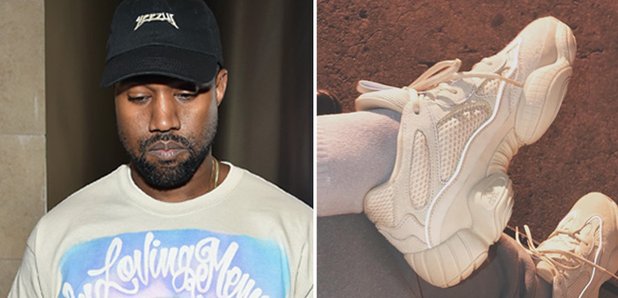 "Yeezy look like orthopaedic shoes."
Kim Kardashian gave fans an exclusive glimpse at the new Yeezy Mud Rat 500's this week, but they didn't go down too well.
The reality TV star posted a snap of herself flexing in her husband Kanye West's unreleased trainers - which are rumoured to be dropping in Spring 2018.
"Mud Rat 500's" she captioned the photo, which revealed a pair of pristine white shoes with reflective accents.
However, it was long before social media users picked up on the 'Ye's upcoming drop and ripped them apart online.
"These are putrid. Is it a joke?" wrote one commenter.
"They look like warts" said another.
Walmart got the Yeezy Mud Rat 500 for the LOW! #ROLLBACK pic.twitter.com/F2a2VcdckU

— Ronni3 Tsunami (@Ronni3Tsunami) 9 November 2017
I'm really dead lmao. Church mothers love a long denim skirt w/ Mud Rat 500-like shoes a go-to casual lewk

— (@Baker_noSquare) 9 November 2017
Actual footage of my Grandfather rocking the new Yeezy Mud Rat 500s back in 2011. Poppy knew the plug. #mudrat500 @KimKardashian pic.twitter.com/GPb5UNuUs7

— Paul Melchione (@pmelch61) 9 November 2017
I could find those #mudrat500 sneakers at Salvation Army. Who in their right mind would buy those? Lol

— A r g e n i s (@TheArgenisPaul) 9 November 2017
When looking at Kanye's new shoes #Mudrat500 pic.twitter.com/DAWl30q9cm

— Goofs and Gafs (@AlwaysFollow98) 9 November 2017
Sorry yeezy no orthopedic looking Ass sneakers on me.

— Jaeda_sky (@Jaeda_sky) 9 November 2017
Yeezy look like orthopaedic shoes for people with summer teeth. Summer here summer there. #Mudrat500 #KimKardashian #yeezy

— Harry Pita (@kebabwizard) 9 November 2017
The Mud rat 500's look like the same shoes every dad in the world got at Wal Mart for $19.99.

— KC Jones (@KjonesFlocka) 9 November 2017
the yeezy mud rat 500's are hideous. they look like high school cheerleading shoes.

— Daisy Vela (@velad90) 9 November 2017
According to High Snobiety, the Mud Rat 500's will drop with Adidas and comprise of suede, cow leather and mesh, adiPRENE+ cushioned tooling and 3M reflective piping.
Last week, Kanye was seen rocking a previously-unseen black pair of his adidas Wave Runner 700.