Kanye West Plays Drake Songs At Wireless Festival, Drake Sends Thank You Message
6 July 2014, 09:55
Yeezy also delivered another lengthy speech during his second night concert in Finsbury Park.
Drake might have been too ill to perform at Wireless Festival in London last night (5th July), but that didn't stop his replacement on the line-up, Kanye West, from playing some of Drizzy's biggest songs.
"My homeboy Drake can't be here but we still gotta rep for him tonight," Kanye told the crowd in Finsbury Park, before playing Drake's 'Trophies', 'We Made It' and 'All Me'.
You can watch the moment above. (Warning: the video contains strong language that some people may find offensive.)
The kind gesture hasn't go unnoticed by Drake either, who was too sick to travel to the UK to headline Wireless in London and Birmingham. Drizzy posted a message on Instagram, accompanied by a picture of Kanye on stage at the festival.
It said:
"Man I appreciate Kanye playing Trophies at Wireless so much. I want to be at all the shows more than anything in the world right now. I just keep watching the video over and over. Slow motion for me right now but I promise all the fans an incredible experience as soon as I am back. I am so sorry once again I love you all dearly. Thank you Ye for giving me that joy tonight."
Kanye's performance last night featured another lengthy speech following his 15-minute rant on Friday night (4th July).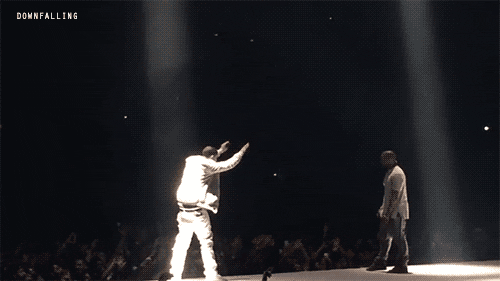 (Via Giphy)