Kanye West And Jay Z's 8 Best Collaborations
6 April 2018, 14:17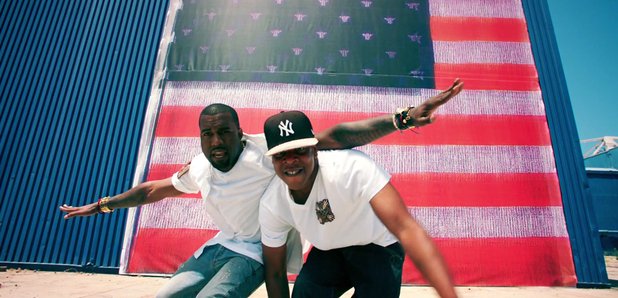 It doesn't get bigger than Kanye and Jay, but what's their best collaboration ever?
1) 'Diamonds From Sierra Leone' (Remix)
The remix for 'Diamonds…' made its way onto Kanye's second album 'Late Registration' and saw Kanye and Jay take it to a whole new level with lyrical references that included the mighty Roc-A-Fella empire, "getting The Game back" and Jay's infamous: "I am not a business man... I am a business, man."
2) 'So Appalled'
Kanye wheeled out all the big rappers on 'So Appalled', which featured on his seminal 2008 album 'My Beautiful Dark Twisted Fantasy'. In addition to Jay Z, the dark song also features Pusha T, Cyhi the Prynce, Swizz Beatz, and RZA, all of whom receive writing credits.
3) 'Paris'
No matter how many times Jay and Kanye played this live during their 'Watch The Throne' gigs, the crowds literally couldn't get enough of the track's timeless beat and insane lyrics.
4) 'Swagga Like Us'
While M.I.A sings the main hook in 'Swagga Like Us', it's Jay and Kanye's raps that take the tune to a whole new level, with Yeezy stating that "Mr West is in the building" as the track kicks off. The track came at the height of Kanye's obsession with auto-tune.
5) 'Never Let Me Down'
Listen on Spotify.
'Never Let Me Down', from Kanye's debut album 'The College Dropout', still sounds timeless more than a decade after it was released. A noticeably younger sounding Jay and Kanye go back and forth with each other on the emotionally driven track.
6) 'Monster'
One of the standout tracks from Kanye's 'My Beautiful Dark Twisted Fantasy', Yeezy and Jay Z go to town on 'Monster, which also features some killer raps from Nicki Minaj and Rick Ross.
7) 'Power' (Remix)
Kanye and Jay have a track record of big remixes, but we're not sure many come bigger than 'Power'.
8) 'Run This Town'
While Rihanna sings the chorus on 'Run This Town', Kanye and Jay go to town as they rap about their career successes. The song featured on Jay's trilogy completing 'The Blueprint 3'.