The Oscars Accidently Announced Wrong Winner For Best Picture & John Legend's Reaction Was Priceless - WATCH
27 February 2017, 10:17 | Updated: 27 February 2017, 10:19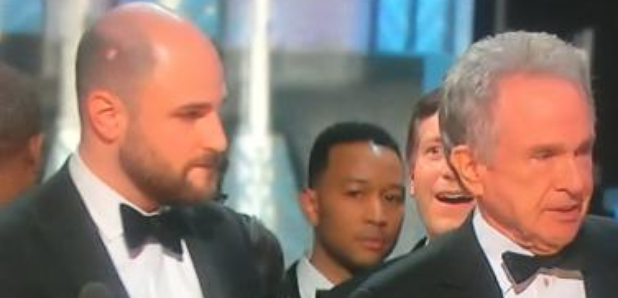 What a mix-up!
The Oscars mistakenly announced 'La La Land' as the winner of this year's Best Picture in a huge mix-up that resulted in 'Moonlight' being confirmed as the actual winner.
The confusion reportedly came from Warren Beaty and Faye Dunaway, who appeared to be given the wrong envelope, containing the winner of the previous category (Emma Stone, La La Land, Best Actress.)
Watch the awkward moment below:
Beatty wasn't bullshitting. He was desperately looking for another card. He got handed the wrong envelope. pic.twitter.com/Efu8sICf8Y

— Hershal (@hershal) February 27, 2017
#Oscars shocker: Warren Beatty reads the wrong Best Picture winner, 'La La Land' didn't win — 'Moonlight' did. pic.twitter.com/iB6TLxyTn5

— Hollywood Reporter (@THR) February 27, 2017
However eagle-eyed fans were quick to spot John Legend's epic reaction to the moment in background and made light of the scenario on social media.
John Legend was in the back like... #Oscars pic.twitter.com/Tl2TAWUGaY

— Tim Wilson (@iAMTimWilson) February 27, 2017
John Legend don't even know what emotions to feel I'm crying pic.twitter.com/FFwJ6FKSPV

— Alex (@fergodson) February 27, 2017
Look at John Legend RT @Lizzs_Lockeroom: Y'ALL #Oscars pic.twitter.com/Z3ZVdIJrPV

— Top Gang Thug (@thedonjT) February 27, 2017
Anyone else notice John Legend's face/reaction?

— Tamaralaiyefa (@onniixxxx) February 27, 2017
@FestJumpers @johnlegend reaction in the back is PRICELESS!

— AshanteNicoleStyle (@ANSTYLEdotCOM) February 27, 2017
Meanwhile, John Legend also made headlines for his stunning performance of a song from 'La La Land'.
Watch below:
The singer performed 'City Of Stars' while people danced around him on the stage, if front of an amazing panoramic view of a city landscape at night.