Jhene Aiko Gets Huge Tattoo Of Big Sean's Face, Twitter Reacts Hilariously
10 October 2017, 10:19 | Updated: 10 October 2017, 10:27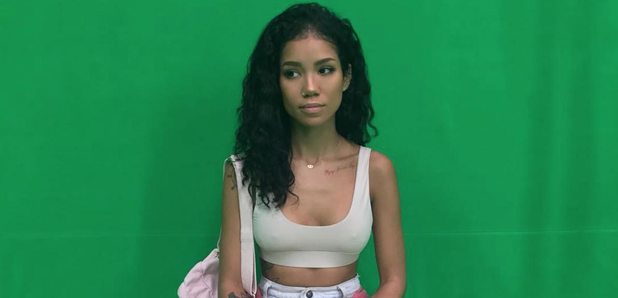 The singer has immortalised her relationship with Big Sean.
Jhene Aiko has confirmed her love for Big Sean with a huge tattoo of his face on her arm.
The 'Trip' singer, who recently finalised her divorce from Dot Da Genius, got her current boyfriend inked on her left bicep.
The close up portrait photo, shows the Detroit rapper smiling while wearing a suit and bow tie.
"I loved working with Jhene," said Swedish tattoo artist Miryam "The Witchdoctor" Lumpini, who carried out the job at her private studio in downtown L.A.
"She's great. I'm so glad we came together for this concept. It was so inspiriting to collaborate on a vision so deeply rooted in love."
Twitter was quick to react after pictures of Jhene Aiko's latest tattoo hit the net.
Jhene Aiko: You like my new tattoo?

Big Sean: pic.twitter.com/GZo8MvUjX5

— Arnez (@ArnezHD) 9 October 2017
Jhene aiko, you possibly just committed career suicide with this Big Sean tattoo. Look what happened to Nick Cannons career after "Mariah"

— Morena (@SheSoMorena) 10 October 2017
i honestly thought jhene aiko was smarter than that. a whole tattoo of another human being?

— Maatla (@maatlaisnge) 10 October 2017
Jhené Aiko got a tattoo of Big Sean's face on her arm noooo sis! LOVE them but nooooo

— Nicole Rose (@coleylove268) 9 October 2017
Jhene Aiko falls HARD because who gets a tattoo of a boyfriend's whole face?

— BeautifulSoul (@Sunny_Love22) 9 October 2017
Jhene Aiko is a STRAIGHT FOOL for getting Big Sean's face tatted on her. I'm actually in disbelief! Where's his tattoo of her please? pic.twitter.com/tiFgzMdHuH

— #ShadyRomanSisWife™ (@ItsASheThIngTV) 9 October 2017
The R&B singer is covered in tattoos and often showcases her most prominent ink, including a dharma wheel on her shoulder, her brother's full name on her collarbone and a Buddha sitting on a lotus flower on her back.
Meanwhile, Jhene Aiko recently released her latest album 'Trip', which debuted at no. 5 on the Billboard 200 chart.