Twitter Really Can't Handle Jay Z's Verse On Drake's 'Pop Style'
6 April 2016, 14:22 | Updated: 6 April 2016, 15:03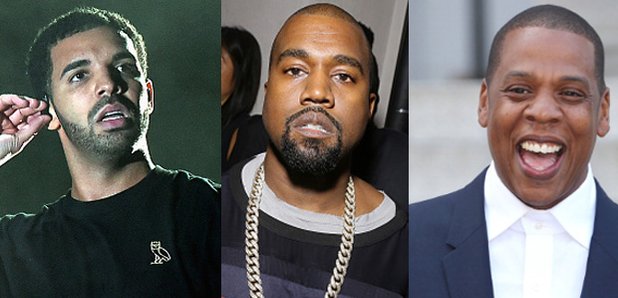 Jay rapped one of the shortest verses of all time.
After Drake unleashed two surprise singles 'One Dance' feat. Wiz Kid & Kyla and 'Pop Style' feat. The Throne, the Internet exploded with their reactions.
Many people weren't ready for the Funky House sample on 'One Dance', while others couldn't handle Drake, Kanye West and Jay Z on one song.
But one thing which stood out was Jay Z's verse - or lack of it!
"They still out to get me, they don't get it/ I can not be got, and that's a given," he raps.
The rapper delivered an almighty two lines before passing the baton to Kanye – which wasn't missed by users on Twitter.
Check out the funniest reactions below:
Jay Z's recording session for "Pop Style." pic.twitter.com/6LnmvTuPkl

— Joe La Puma (@JLaPuma) April 5, 2016
"Sure, Jay would LOVE to do a verse for you! He still loves rapping! Don't you, darling?" pic.twitter.com/pgeg5O5Hzj

— Hanif Abdurraqib (@NifMuhammad) April 5, 2016
@itsthereal this was left in one of our computers at the library . pic.twitter.com/clCFwrqyZS

— SGC Teen Library (@SGCTEENLIBRARY) April 5, 2016
Jay-Z has 1 bar on Pop Style. I bet the rest of his verse is on Tidal

— PC (@yungdavehoes) April 5, 2016
Jay Z heard Solange in the studio and didn't finish his verse

— Neighbourhood Dave (@ProfessorKumi) April 5, 2016
Just when you thought you were getting a Jay Z verse.. #PopStyle pic.twitter.com/y51UAJXCkJ

— Nâppÿ Heâd Kēnnÿ (@Young_IGG) April 5, 2016
"Then I gave drake one line and charged him for a full feature..." #PopStyles pic.twitter.com/Bqqbh8Jjz0

— Rapchat (@rapchatapp) April 5, 2016
When you think Jay Z is gonna rap some more on Pop Style but he never comes back with another verse... pic.twitter.com/nABY5uO6E6

— DJ Heat (@DJHeatDC) April 5, 2016
jay z reading his Pop Style verse pic.twitter.com/WqTBVsIowS

— steven h (@YoungChipotle) April 5, 2016
@itsthereal pic.twitter.com/jxT8TP0Fix

— @THISISTFR (@DKMEDIANYC) April 5, 2016
Is there another version that includes Jay Z's full verse? Did Drake deliberately remove his lyrics? Was the Illuminati involved?
The mystery of Jay Z's short 'Pop Style' verse is just as confusing as Drake's secret Snapchat account.