Jay Z Spotted Recording New Music In Jamaica With Damian Marley
13 June 2017, 12:16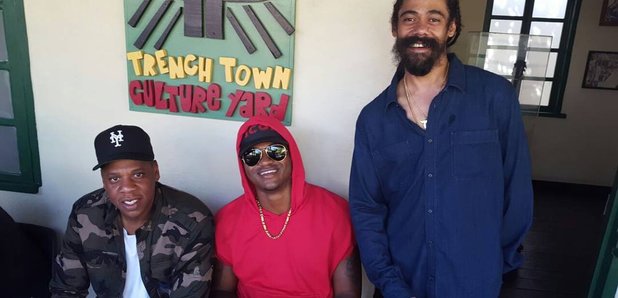 Hov jetted off to work on his new album as heavily pregnant Beyoncé approaches her due date.
Jay Z was spotted in Kingston, Jamaica over the weekend, reportedly recording his upcoming album.
The rapper has been recording with reggae musician and Tidal co-owner Damian Marley in Bob Marley's Tuff Gong Studio.
Pictured alongside Marley, as well as fellow reggae stars Tarrus Riley and Sister Nancy, Jay appeared to leave a heavily pregnant Beyoncé at home during his trip to the sunny island.
Marley has since confirmed that he was indeed working with Hov on his new material.
"Well, I did some work with him for some stuff that he's working on," Marley told Billboard. "I'm not really sure of the details of his project in that sense, but we worked on some music together."
"I've been a fan of his music since he came out." he explained. "We've never done any musical work together. So that was a joy to finally work together musically."
Hov sparked major album speculation following the release of Tidal's mysterious '4:44 ' messages at the end of last week.
Meanwhile, Beyoncé is said to be ready to give birth any day now.
Fans suspect that the singer may have already had the twins, supported by her father's claims last month that she was around 'two weeks' away from her due date.