Blue Ivy Just Bid $19,000 On A Painting But Jay Z's Reaction Is Priceless
19 March 2018, 12:23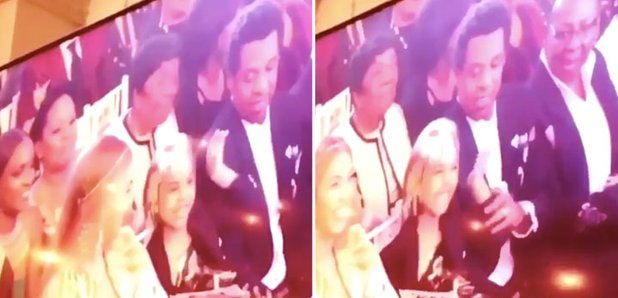 Blue, Bey and Jay were attending the Wearable Art Gala in Los Angeles.
Blue Ivy is already out here trying to start her art collection, it seems - but not if her father has anything to do with it.
The six-year-old daughter of Beyoncé and Jay-Z placed some hefty bids during the second annual Wearable Art Gala in Los Angeles, which she attended with her parents.
Organised by Bey's mother Tina Knowles, the event benefited LA's WACO Theater Centre and featured an auction which saw attendees bid for fine art and paintings.
Blue Ivy & Beyoncé arriving at the #WearableArtGala tonight pic.twitter.com/WDVxZO8YFP

— Blue Ivy Source (@blueivysource) 18 March 2018
One painting in particular - "Young Sidney" by artist Tiffanie Anderson - appeared to catch Blue's eye, as she raised her paddle for a bid of $17,000. And the another for $19,000!
Jay-Z jumped in and jokingly tried to steal the paddle, before actor Tyler Perry ended up taking the portrait home for $20,000.
Teach them young! Blue Ivy doesn't need Toys R Us because she just bid $19,000 for some art. pic.twitter.com/u8YtgnSrDS

— REVOLT TV (@REVOLTTV) 18 March 2018
Blue Ivy bidding on $19,000 dollars worth of art. I'm fucking weak. Her and Jay-Z were fighting for the paddle. Blue Ivy said she got the money. LMFAOOO

— (@MJFinesseLover) 18 March 2018
When Blue Ivy put her hand up to bid on the art for 19k, Jay-z was like: pic.twitter.com/yUsNVGuZTt

— Big Bob (@BigBackBob) 18 March 2018
*waits for JAY-Z to rap about Blue ivy art bid moves*

— Gage (@KingGage_) 18 March 2018
blue ivy carter bid 19K on a piece of art last night.

god i'm so poor

— wiggie smallz (@such_A_frknlady) 18 March 2018
During the evening, Beyoncé received the Humanitarian Award for her charity work and philanthropic efforts, while Jay-Z's mother Gloria Carter received the Everyday People Award.
Bey made an emotional speech as she received her award, saying: "I never thought people should receive awards like this because in my opinion, the giving is the reward and that's enough,"
"I try to keep my charitable work quiet because I feel like these things should come from the goodness of your heart and nothing orchestrated as a campaign."
She added: "And if I'm honored, I keep it quiet because I feel like I could be doing more."
Former First Lady Michelle Obama also sent a video message for the R&B singer, whom she hailed her "sister", and praised her inspiring charity work.