The Original Tracklisting Of Jay Z's 'Reasonable Doubt' Surfaces Online
20 January 2014, 13:39 | Updated: 20 January 2014, 13:40
This is what the album hailed as a hip hop classic could have looked like.
Viewed by most as a hip hop classic and even rated by its creator as his personal best, Jay Z's debut album 'Reasonable Doubt' is no doubt a staple of 90's music.
But the finished product, which was released nearly 18 years ago now, was quite different to what Jay Z originally had in mind. The album's art director/ designer has revealed to 2DopeBoyz a hand written image of the original tracklisting for the album.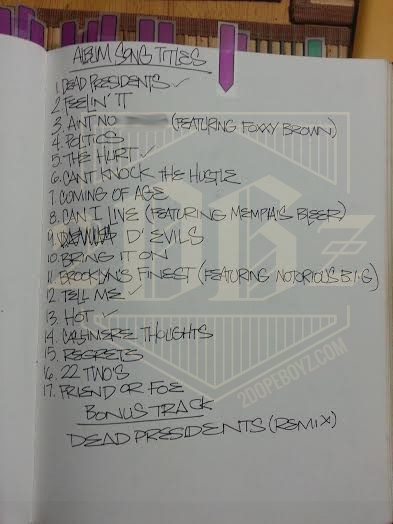 On it you'll find 17 tracks, as oppose to the 14 that made the final cut. Who knows what happened to the additional three, entitled 'The Hurt,' 'Tell Me' and 'Hot,' as they never made it onto another Jay album, or surfaced anywhere else for that matter.
When the album was released on June 25th 1996 it charted for 18 weeks on the US Billboard 200, peaking at number 23 – the album wasn't certified platinum until 2002.
Find the final tracklisting for 'Reasonable Doubt' below:
Can't Knock The Hustle feat. Mary J Blidge
Politics As Usual
Brooklyn's Finest feat. Notorious B.I.G
Dead Presidents II
Feelin' It feat. Mecca
D'Evils
22 Two's
Can I Live
Ain't No N**** feat Foxxy Brown
Friend Or Foe
Coming Of Age feat Memphis Bleek
Chasmere Thoughts
Brint It On feat Big Jaz and Sauce Money
Regrets
Bonus Track:
Can't Knock The Hustle (Fools Paradise Remix feat. Melisa Morgan)