Jay Z Invites Another Fan To Rap On Stage, She Asks For A Record Deal
11 January 2014, 11:31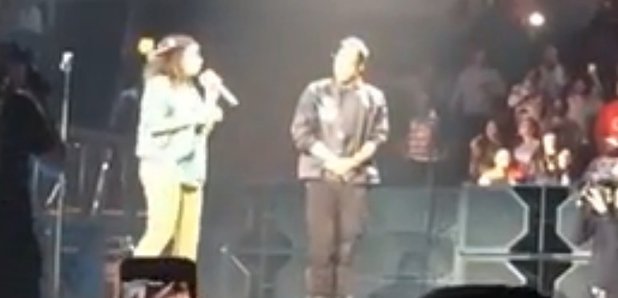 Find out whether Jay Z granted her wish in front of a sold-out crowd in Chicago.
It would seem that one of Jay Z's resolutions for 2014 was to invite fans to join him on stage, because, for the second time in a week, the rapper brought a fan out from the crowd to perform with him in Chicago on Thursday (9th January).
(Warning: The following video contains strong language that some people may find offensive.)


Just days after Jay Z granted a 12-year-old boy's wish to perform with him on stage, the rapper did the same for 19-year-old Monique - the only difference was that Monique had performed with Jay before.
Holding a sign that said: "When I was 16 I rapped on this stage with you. I'm 19 now and I'm ready", Monique took her place on stage alongside Hova, who seemed impressed by her courage and then proceeded to spit an impressive freestyle. Much to the delight of the audience, the 19-year-old also used the opportunity to ask Jay for a record deal.
Although Hova didn't grant her her wish, he did praise her performance: "You just told your whole entire life story, huh?" he said. "I would've done the same s**t. F**k that. It might not happen again."