Blue Ivy Drops Freestyle On JAY-Z's '4:44' & The Internet Can't Handle It - LISTEN
7 July 2017, 09:33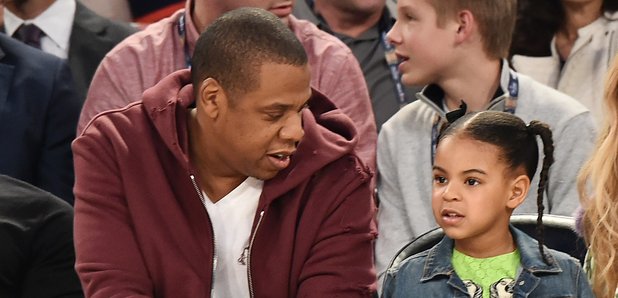 Blue has bars.
Beyonce and JAY-Z's five-and-half-year-old daughter Blue Ivy has released her first ever freestyle on her dad's new song 'Blue's Freestyle/We Family'.
Blue, who first appeared on JAY-Z's 2012 song 'Glory', raps for at least 45 seconds over the soulful instrumental.
"Never seen a ceiling in my whole life," she raps. "Boom shakalaka, boom shakalaka, everything in shaka, everything in faka."
Listen below:
Blue Ivy rapping on 4:44 pic.twitter.com/jC7PpJWg5a

— Beyoncé Aus (@BeyonceAUS) July 7, 2017
The new song 'Blue's Freestyle' features as a bonus track on the new physical release of JAY-Z's new album '4:44', alongside new songs 'Adnis' and 'ManyFacedGod' featuring James Blake.
Meanwhile, JAY-Z has now released his album on Apple Music and Amazon, following it's previous TIDAL exclusivity.
Stream the project below:
Following the song's release, Blue Ivy became a trending topic on Twitter, with many fans surprised at her rapping talent.
Blue Ivy got a better flow than 99% of you SoundCloud rappers.

— Ghost of Mufasa (@_ChefDon_) July 7, 2017
Blue ivy got a better flow den Meek mill smh

— DJ Hennessy (@HypebeastRelly) July 7, 2017
Blue Ivy with a better flow than ya favorite rapper. Don't @ me. pic.twitter.com/R3MSXIliFU

— #ClarkForCityCouncil (@_KingMalcolm) July 7, 2017
I already know all the rappers about to steal that Blue Ivy flow smh

— Kyle Not So Focused (@KingKyleIV) July 7, 2017
Blue Ivy spitting bars and Asahd is producing. My child has no choice but to cure cancer and find the meaning of life.

— Jemise (@TiericaJay_) July 7, 2017
blue ivy the goat she really said she never seen a cieling in her whole life??? BARS

— Blue's Ivy League (@bIushbabe) July 7, 2017
Hov really got Blue Ivy spitting bars on this album woah

— GOOD WORK ROBERT (@robert_76092) July 7, 2017